New Low Decline As An "All-Clear"; Junk Bond Surge
---
---
This is an abridged version of our Daily Report.
All is not clear
In December, more than 40% of securities hit a 52-week low. That has since collapsed to fewer than 0.4% of issues, the 2nd fastest and most dramatic reversal in history.
If we relax the thresholds, using more than 30% new lows as the setup and fewer than 1.5% with a month as the trigger, then we see that other big declines in the percentage of issues at new lows were an inconsistent "all-clear" signal for stocks, with too many failures.
High and higher yield
Sentiment on high-yield (junk) bonds reached an extreme in late December, and since they've rallied strongly.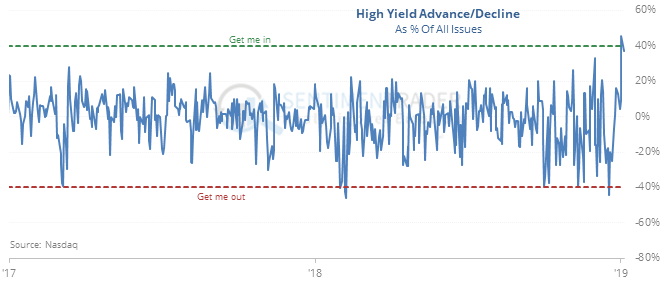 For one of only a handful of times, investors have went from "get me out" to "get me in", showing intense buying interest that has persisted in the months ahead. It was a good sign for the broader stock market, as well. Six months later, the S&P 500 was higher by a minimum of 8.8%.
Retracement
The S&P 500 has retraced more than 38.2% of its decline, one of the best-ever retracements this soon after a decline of more than 15%. Rallies that retrace more of a decline this quickly have tended to show more weakness in the shorter-term (markets get overbought) but outperform over the next six months.
Sudden shift
According to the heatmap, Mexico is the most-loved country over the past 10 days as its Optimism Index climbs above 70. The Backtest Engine shows that over the past 3 years, a 10-day average this high led to an average 3-month return of -1.5% and 29% win rate.



The post titled New Low Decline As An "All-Clear"; Junk Bond Surge was originally published as on SentimenTrader.com on 2019-01-09.
At SentimenTrader.com, our service is not focused on market timing per se, but rather risk management. That may be a distinction without a difference, but it's how we approach the markets. We study signs that suggest it is time to raise or lower market exposure as a function of risk relative to probable reward. It is all about risk-adjusted expectations given existing evidence. Learn more about our service , research, models and indicators.
Follow us on Twitter for up to the minute analysis of market action.
Follow @sentimentrader