New Highs Ahead? Leveraged Bets Are Counting On It
---
---
Funds buy in
We saw last month that equity hedge funds apparently have a low exposure to stocks on a longer time frame. We also follow macro and commodity-trading funds, which tend to be more aggressive, leveraged, and trend-following with a shorter time frame. And they have suddenly seen the light, going from 25% short exposure in March to more than 50% long exposure by late last week.

This has tended to precede weak returns.
Leveraged bets on a rally
The smallest of options traders placed a record bet on a stock decline in late May and early June. Now that stocks have done the opposite, they're moving to the other side of the boat.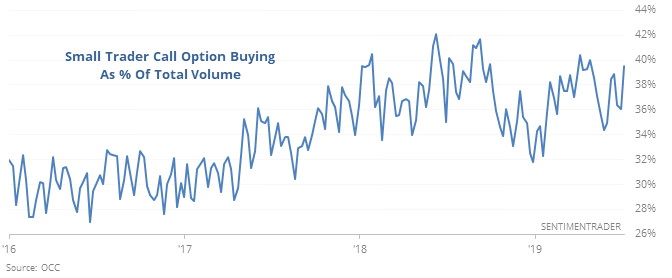 Last week, they spent 40% of their volume on speculative call options, one of their most leveraged bets on a rally since 2000.
Earnings optimism
Regardless of Wall Street's opinion, investors seem to be bullish about stocks' prospects heading into earnings reporting season, with the S&P 500 closing at a new high 10 days after the end of a quarter. When this happened in July since 1950, the S&P added to its gains over the next two months only 3 times out of 9 attempts, with risk about twice as large as reward.
Bueller? Bueller?
SPY closed at a 52-week high but nobody seemed to care – it range and volume were the lowest in months. We've never seen this outside of holiday-influenced sessions. All others were in November or December.
This post was an abridged version of our previous day's Daily Report. For full access, sign up for a 30-day free trial now.

Related Posts:
---
Tagged As:
The post titled New Highs Ahead? Leveraged Bets Are Counting On It was originally published as on SentimenTrader.com on 2019-07-16.
At SentimenTrader.com, our service is not focused on market timing per se, but rather risk management. That may be a distinction without a difference, but it's how we approach the markets. We study signs that suggest it is time to raise or lower market exposure as a function of risk relative to probable reward. It is all about risk-adjusted expectations given existing evidence. Learn more about our service , research, models and indicators.
Follow us on Twitter for up to the minute analysis of market action.
Follow @sentimentrader