Mutual Fund Cash Sinks Along With Risk Appetite
---
---
This is an abridged version of our Daily Report.
As rates rise, fund managers shrug
Mutual fund managers continue to hold a near-record low level of cash relative to other assets. A surge in short-term interest rates has not tempted them to hold more of a cash cushion. They are now holding 2.5% less cash than they "should" be, which has led to high long-term risk.

Risk appetite crashes
Sudden volatility across asset classes triggered a huge one-day drop in risk appetite among investors. That was large enough to move it into extreme territory.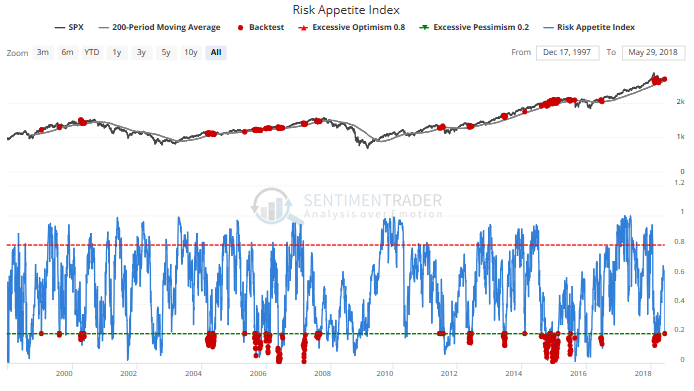 Big drops, and to this kind of extreme, have led to good medium-term returns in stocks.
Quick switch
A day after NYSE Up Volume rose above 87%, its largest in nearly two years, it fell below 30% on Thursday. When the S&P 500 was above its 200-day average, a reading above 85% followed by one below 30% led to a rebound the next day only 44% of the time. But by three days later, the S&P was higher 81% of the time (13 out of 16 times).
Russell retracement
A day after the small-cap Russell 2000 index surged more than 1% to a new high, it pulled back but not enough to erase yesterday's gains.


F
or access to the full report, indicators, charts, screens, and Backtest Engine, log in or sign up for a free 30-day trial today.
Related Posts:
---
Tagged As:
The post titled Mutual Fund Cash Sinks Along With Risk Appetite was originally published as on SentimenTrader.com on 2018-06-01.
At SentimenTrader.com, our service is not focused on market timing per se, but rather risk management. That may be a distinction without a difference, but it's how we approach the markets. We study signs that suggest it is time to raise or lower market exposure as a function of risk relative to probable reward. It is all about risk-adjusted expectations given existing evidence. Learn more about our service , research, models and indicators.
Follow us on Twitter for up to the minute analysis of market action.
Follow @sentimentrader