Most volatile period in history as oil sentiment plunges
---
---
Negative energy
Negative oil prices? According to some, it could happen. What's interesting about this is it's not the first time the concept of zero or negative oil prices has been discussed in mainstream financial media. This also made the rounds in early 2016.
Sentiment on oil and energy stocks hit extremely negative territory in late February, and has only gotten worse, one of the rare cases of truly extreme sentiment becoming even more so. The negative sentiment been enough to push the 20-day Optimism Index for crude to one of the lowest levels since 1991.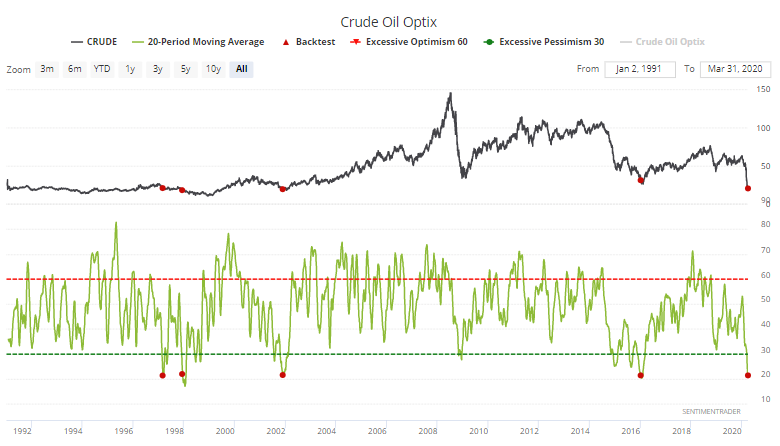 Most volatile ever
Sharp market crashes usually don't see a V-shaped recovery. These sharp selloffs are usually driven by a major reason (not just sentiment), and that reason doesn't usually disappear in a flash overnight.
As stocks have gyrated, many of the past 30 days have been all or nothing days (every stock going up or every stock going down). Less extreme historical cases at least marked medium term bottoms: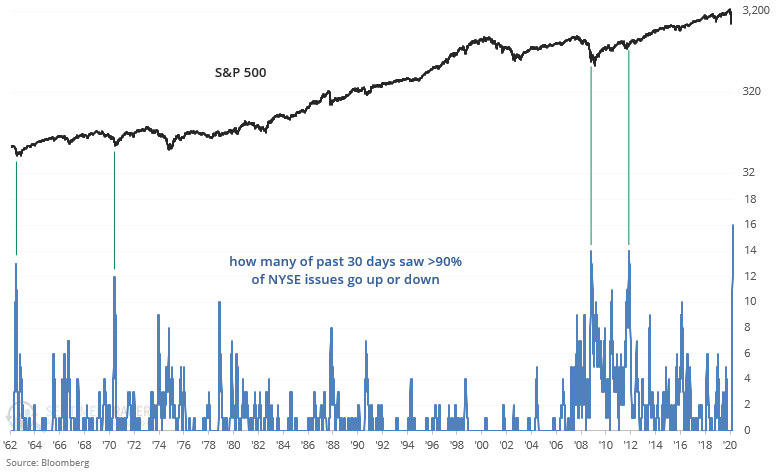 This is an abridged version of our recent reports and notes. For immediate access with no obligation, sign up for a 30-day free trial now.
We also looked at:
Other looks at "negative oil" articles from the past
Trader behavior in oil ETFs
Oil volatility and term structure
Seasonality and "smart money" positions in oil
Consumer confidence in stocks has plunged, while rising for bonds
The ISM surveys are starting to show the economic weakness
Broader confidence indexes are falling

Related Posts:
---
Tagged As:
The post titled Most volatile period in history as oil sentiment plunges was originally published as on SentimenTrader.com on 2020-04-02.
At SentimenTrader.com, our service is not focused on market timing per se, but rather risk management. That may be a distinction without a difference, but it's how we approach the markets. We study signs that suggest it is time to raise or lower market exposure as a function of risk relative to probable reward. It is all about risk-adjusted expectations given existing evidence. Learn more about our service , research, models and indicators.
Follow us on Twitter for up to the minute analysis of market action.
Follow @sentimentrader