More than a quarter of S&P 500 stocks are trailing by double-digits
---
---
On Wednesday that the Cumulative Advance/Decline Line has broken out to a new high. The stocks-only line, however, is still lagging.
As noted by The Daily Shot, the percentage of stocks trailing the index by more than 10% has spiked. While we have different data sources and likely a different methodology, we can see that this is the case.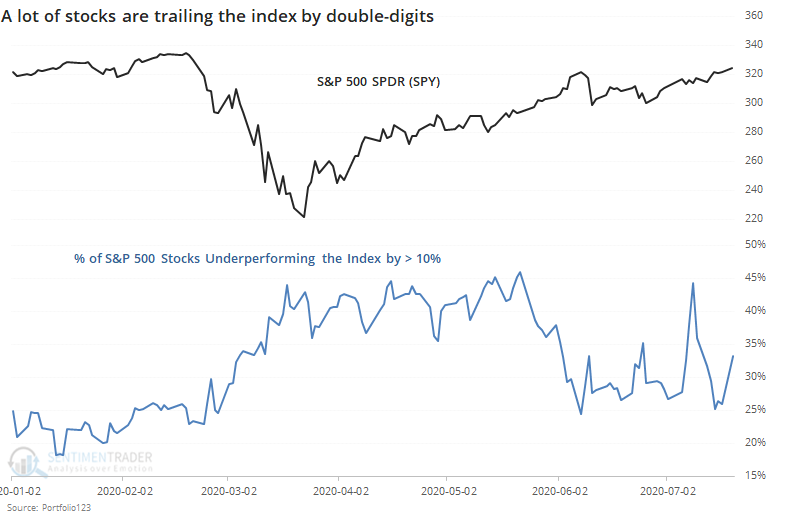 The chart shows the percentage of stocks within the S&P 500 that are trailing the index's returns by 10% or more over the past 13 weeks. It's not unusual to see this figure jump during bear markets, which it did during the pandemic, but it is relatively unusual to see so many stocks continue to lag the index by so much when the index has climbed close to its prior highs.
Since 1999, when the S&P 500 was relatively close to a 52-week high but more than a quarter of its stocks were trailing the index by double-digits, forward returns over the shorter-term were poor.
This is an abridged version of our recent reports and notes. For immediate access with no obligation, sign up for a 30-day free trial now.
We also looked at:
A look at the past 21 years of stocks trailing the S&P by 10% or more
Corporate insiders are selling stocks aggressively...or are they?
Home sales are jumping - what that means for REITs and homebuilders
Optimism on silver is extremely high, and on the dollar it's extremely low - what that's meant for each

Related Posts:
---
Tagged As:
The post titled More than a quarter of S&P 500 stocks are trailing by double-digits was originally published as on SentimenTrader.com on 2020-07-24.
At SentimenTrader.com, our service is not focused on market timing per se, but rather risk management. That may be a distinction without a difference, but it's how we approach the markets. We study signs that suggest it is time to raise or lower market exposure as a function of risk relative to probable reward. It is all about risk-adjusted expectations given existing evidence. Learn more about our service , research, models and indicators.
Follow us on Twitter for up to the minute analysis of market action.
Follow @sentimentrader