Money-Losing IPOs Debut Amid Low Uncertainty Ahead Of Elections
---
---
This is an abridged version of our Daily Report.
Comfortable with losing money
Bankers have brought the most money-losing IPOs to market since 2000. When we looked at this in the spring of 2015, even then it wasn't as extreme as it is now. The bankers can't do this unless the public accepts the shares, suggesting extreme complacency on the part of investors.
A questionable cycle
The next few quarters of the presidential election cycle have been great on average, with some of the best returns of all quarters over the 4-year cycle. But economic uncertainty is low now, which has greatly dampened past returns.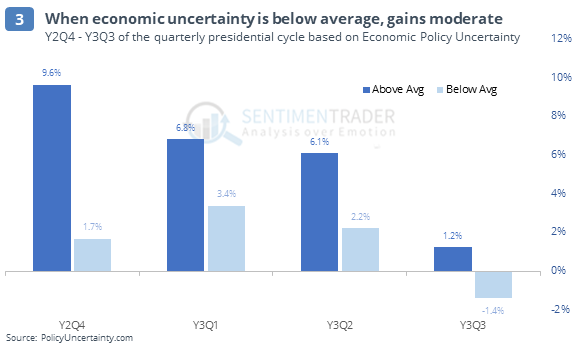 The next few quarters showed much better returns when investors (and voters) were more uncertain about the economy and politicians' policies.
A dramatic divergence
Several times in recent weeks, we've looked at the conspicuously large number of securities sinking to 52-week lows despite good performance in the major indexes. On Tuesday, the Dow Industrials closed at a new high, yet there were more than three times as many securities hitting a 52-week low than a 52-week high on the NYSE.
Blame small-caps
Small stocks have an outsized impact on breadth figures, and the Russell 2000 closed at a two-month low on Tuesday. This has never happened before on a day the Dow closed at a high.
F
or access to the full report, indicators, charts, screens, and Backtest Engine, log in or sign up for a free 30-day trial today.
Related Posts:
---
Tagged As:
The post titled Money-Losing IPOs Debut Amid Low Uncertainty Ahead Of Elections was originally published as on SentimenTrader.com on 2018-10-03.
At SentimenTrader.com, our service is not focused on market timing per se, but rather risk management. That may be a distinction without a difference, but it's how we approach the markets. We study signs that suggest it is time to raise or lower market exposure as a function of risk relative to probable reward. It is all about risk-adjusted expectations given existing evidence. Learn more about our service , research, models and indicators.
Follow us on Twitter for up to the minute analysis of market action.
Follow @sentimentrader