Momentum Traders' First Real Test
---
---
Testing momentum
In early January, stocks registered a Zweig Breath Thrust when Up Volume quickly swung from oversold to overbought. This week, the indicator hit an oversold level for the first time, testing momentum traders' conviction.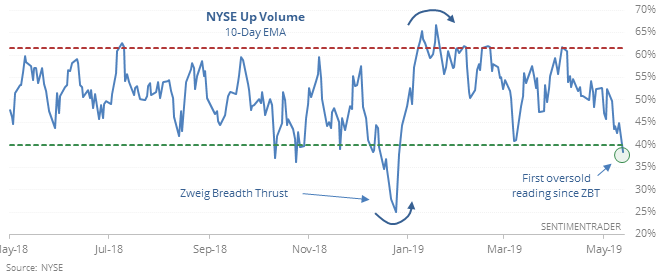 Other times that months passed between a thrust and the first oversold reading, upside momentum usually continued to win. The most impressive part of the signal was the low risk, with few of them seeing large declines at any point.
Picking up protection
According to a major bank survey, money managers are as hedged as they've been in more than a decade against a decline in stock prices. The knee-jerk contrarian in us wants to assume that's a good sign for stocks, but it's not that easy. Historically, stocks did better when hedging activity among this group was much lower than it is now.
Options oops
The Heatmap shows a big cluster of funds with exceptionally low optimism on a daily time frame. Chief among them is the Qatar fund, QAT, with an Optimism Index below 2. We don't see that too often. For that fund, it has triggered 5 other times, and rebounded all 5 times with an average gain of more than 13% over the next two months per the Backtest Engine.
Low optimism in high yield
The Optimism Index on HYG fell below 10 while the fund has held above its 200-day average. Per the Backtest Engine, that has led to a rebound over the next three months 88% of the time, with none of the four losses exceeding -3.2%.
This post was an abridged version of our previous day's Daily Report. For full access, sign up for a 30-day free trial now.

Related Posts:
---
Tagged As:
The post titled Momentum Traders' First Real Test was originally published as on SentimenTrader.com on 2019-05-15.
At SentimenTrader.com, our service is not focused on market timing per se, but rather risk management. That may be a distinction without a difference, but it's how we approach the markets. We study signs that suggest it is time to raise or lower market exposure as a function of risk relative to probable reward. It is all about risk-adjusted expectations given existing evidence. Learn more about our service , research, models and indicators.
Follow us on Twitter for up to the minute analysis of market action.
Follow @sentimentrader