Momentum Is Waning And Stocks Are Starting To Split
---
---
Six months of momentum
The McClellan Summation Index has now gone 6 months in positive territory.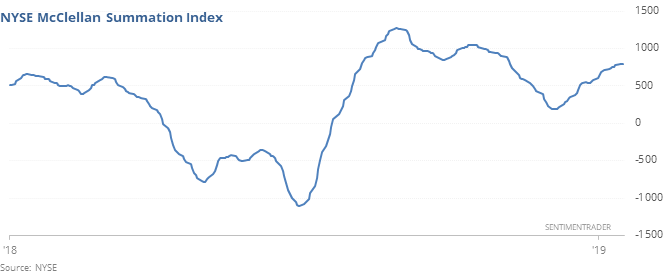 That's a long streak compared to others since 1962. Momentum is very difficult to time, almost by definition, but by the time this measure of breadth momentum went this long above zero, forward returns for stocks were poor over the next 1-2 months, but good longer-term. Seasonality may play a part in much of that weakness – when the streak hit this length anytime from May through August, returns were even worse.
A small split
A good reason for being cautious last fall was a major split in the market. Popular indexes were hitting new highs, but under the surface there was a lot of deterioration. We're seeing the very beginning stages of that now, especially on the Nasdaq exchange.
There haven't been any strong thrusts over the past month, and now there are more 52-week lows than 52-week highs, coming just days after the Composite was sitting at a fresh high.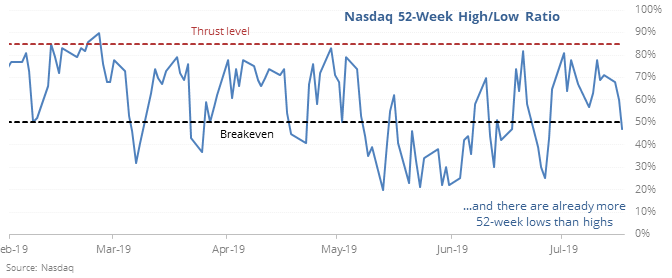 More signals in the coming week(s) would be a big caution sign.
Waning
Among all sectors and indexes we track, the McClellan Summation Index is the highest for the Dow Industrials, and its starting to roll over, having just crossed below 1,525. Per the Backtest Engine, 4 of the 6 times this triggered, the Dow traded lower over the next three months, and one of those gains was minor.
Oops
A Hindenburg Omen triggered for both the NYSE and Nasdaq on Thursday. A single reading isn't enough to be worrisome, but these are the first since October 2018. According to the Backtest Engine, there have been 200 days since 1962 that triggered an NYSE Omen and a month later the S&P 500 was higher only 29% of the time.
This post was an abridged version of our previous day's Daily Report. For full access, sign up for a 30-day free trial now.

The post titled Momentum Is Waning And Stocks Are Starting To Split was originally published as on SentimenTrader.com on 2019-07-19.
At SentimenTrader.com, our service is not focused on market timing per se, but rather risk management. That may be a distinction without a difference, but it's how we approach the markets. We study signs that suggest it is time to raise or lower market exposure as a function of risk relative to probable reward. It is all about risk-adjusted expectations given existing evidence. Learn more about our service , research, models and indicators.
Follow us on Twitter for up to the minute analysis of market action.
Follow @sentimentrader