Mid And Small Caps Break Out As Financial Conditions Ease Amid VIX Decline
---
---
This is an abridged version of our Daily Report.
Large caps lag mids and smalls
The S&P Mid Cap and Small Cap indexes have hit new 52-week highs this week while the large-cap S&P 500 still has not.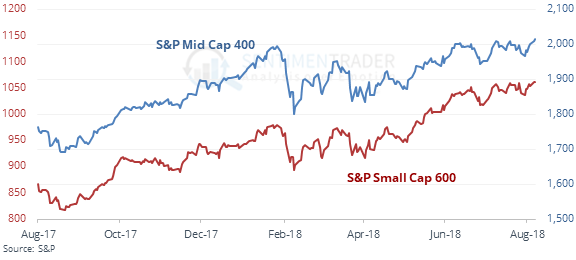 The lagging S&P 500 tends to catch up, with all three indexes usually rallying in the months ahead.
Loose conditions
Financial conditions continue to ease according to the money market, bond, and equity markets. They are even getting close to being extreme. It's a good sign for stocks so far, but if conditions start to diverge, that would be a worry.
Seven-month low in fear
The VIX "fear gauge" closed below 11, its lowest close since early January. There have been 9 other times it closed below 11 for the first time in at least three months. Over the next month, the S&P 500 rallied 8 of the 9 times, with risk of only -0.4% compared to reward of +1.8%. Six months later, the S&P was higher every time.
Light 'em up
The Optimism Index on unleaded gas has climbed above 75. According to the Backtest Engine, over the past 10 years when it has been above 75, the contract showed a positive return over the next two months only 33% of the time, averaging -2.9%.
F
or access to the full report, indicators, charts, screens, and Backtest Engine, log in or sign up for a free 30-day trial today.
Related Posts:
---
Tagged As:
The post titled Mid And Small Caps Break Out As Financial Conditions Ease Amid VIX Decline was originally published as on SentimenTrader.com on 2018-08-08.
At SentimenTrader.com, our service is not focused on market timing per se, but rather risk management. That may be a distinction without a difference, but it's how we approach the markets. We study signs that suggest it is time to raise or lower market exposure as a function of risk relative to probable reward. It is all about risk-adjusted expectations given existing evidence. Learn more about our service , research, models and indicators.
Follow us on Twitter for up to the minute analysis of market action.
Follow @sentimentrader