Mexican Stock Collapse; Small Traders Load Up On Puts
---
---
This is an abridged version of our Daily Report.
Heavy selling south of the border
Mexican stocks have dropped 30% from their highs in US dollars and 20% in pesos.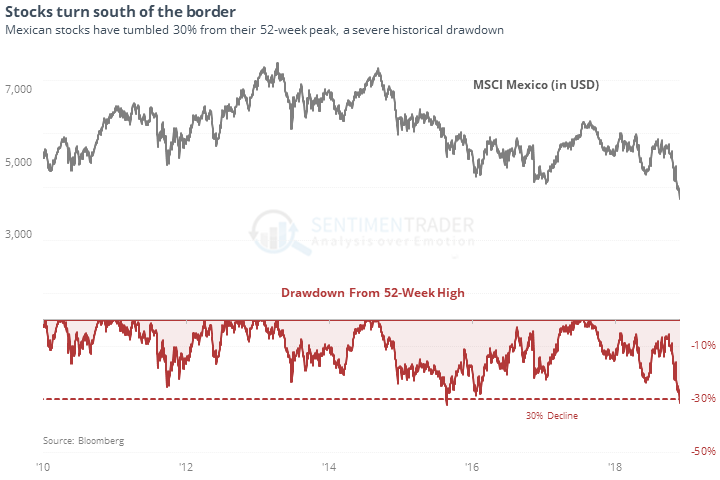 This has nothing to do with the politics of the new administration, which admittedly is a big omit. In emerging markets, new ruling parties can have an outsized impact on markets. But declines this severe have usually preceded at least short-term bounces, including in emerging markets generally.
Monday's drop of more than 4% to a new multi-year lows also shows signs of being exhaustive, with excellent long-term returns in Mexican stocks and emerging markets generally.
Put interest
Over the past 8 weeks, the smallest of options traders have focused so much on buying puts as a percentage of their total option volume that the only times that can match it were near the ends of the bear markets in 2002 and 2008.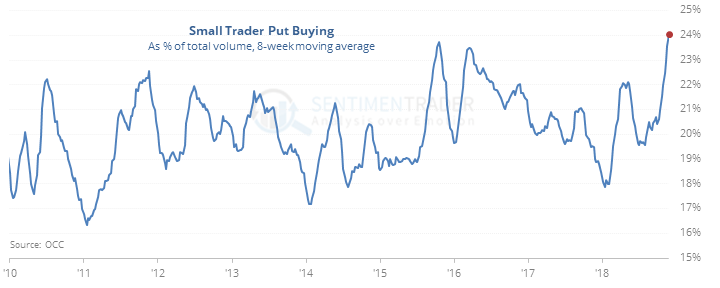 This comes even as other traders let their put contracts expire, pushing open interest below what was seen near the low in October 2008. While many like to assume that this is a contrary indicator, it is not. A high level of put open interest tends to be a negative for stocks; a low level tends to be a positive.
Tailwind
There have been 13 other times since 1928 when the S&P 500 limped into the end of November within 3% of its 6-month low.
Mexico, again
If you go to the Optimism Index Heatmap and click the 50-day moving average, the most-hated ETF we follow is EWW. According to the Backtest Engine, when the 50-day average Optimism Index for EWW has dropped below 35, where it is now, EWW was higher a year later 91% of the time.



Related Posts:
---
Tagged As:
The post titled Mexican Stock Collapse; Small Traders Load Up On Puts was originally published as on SentimenTrader.com on 2018-11-28.
At SentimenTrader.com, our service is not focused on market timing per se, but rather risk management. That may be a distinction without a difference, but it's how we approach the markets. We study signs that suggest it is time to raise or lower market exposure as a function of risk relative to probable reward. It is all about risk-adjusted expectations given existing evidence. Learn more about our service , research, models and indicators.
Follow us on Twitter for up to the minute analysis of market action.
Follow @sentimentrader