Massive surge in speculative trading - AGAIN
---
---
Starting in mid-May, options traders were becoming optimistic to a worrying degree. It reached a fever pitch by early June.
Behavior like that has historically led to extremely limited upside, and usually a correction that wipes away weeks or months worth of gains. And yet here we are months later, talking about records in momentum.
Traders have taken notice. The "stocks only go up" mentality seems to have taken a firm hold, and last week we saw - yet again - a massive increase in speculative activity among the most leveraged contracts.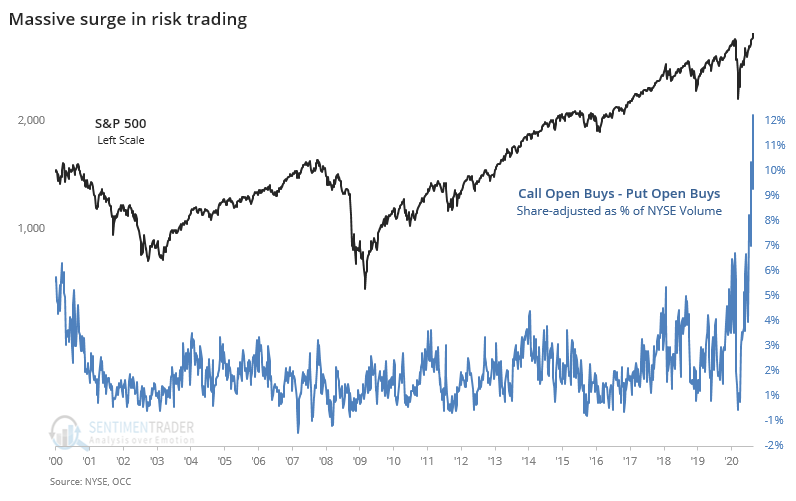 Perhaps there is some structural reason for this massive spike in activity. There are discussions about it being simple stock replacement, traders taking advantage of odd skews.
Nobody knows if "something" has permanently changed. Even if they have on a long time frame, it would be exceptionally unusual to see zealous behavior like this continue to be rewarded. Markets just aren't that easy for that long for this many traders.
This is an abridged version of our recent reports and notes. For immediate access with no obligation, sign up for a 30-day free trial now.
We also looked at:
A more detailed look at last week's options activity
The S&P 500's momentum in recent days, weeks, and months is historic
There are still participation problems within the index
The Nasdaq is more than 30% above its long-term average
The S&P 500's forward P/E Ratio is in rarefied air

Related Posts:
---
Tagged As:
The post titled Massive surge in speculative trading - AGAIN was originally published as on SentimenTrader.com on 2020-09-01.
At SentimenTrader.com, our service is not focused on market timing per se, but rather risk management. That may be a distinction without a difference, but it's how we approach the markets. We study signs that suggest it is time to raise or lower market exposure as a function of risk relative to probable reward. It is all about risk-adjusted expectations given existing evidence. Learn more about our service , research, models and indicators.
Follow us on Twitter for up to the minute analysis of market action.
Follow @sentimentrader