Markets' red-headed stepchild
---
---
Certain rivalries in the financial markets sort of take on a life of their own: stocks vs. bonds, bold vs. silver, growth versus value and of course large-cap vs. small-cap.
Large vs. small is one that a lot of investors pay close attention to, and understandably so. It is sort of the David vs. Goliath of the stock market. Some investors look to large-cap stocks as a known quantity – big, established companies who generally speaking, can be relied upon to generate steady, if not spectacular growth. Others are pulled toward small-cap stocks, often in hopes of finding the "next Apple" or Microsoft, etc. And in the midst of this never-ending debate, smack dab in the middle lies a potentially significant opportunity that many investors rarely if ever consider – the mid-cap space.
I am fond of saying that success in the markets typically comes from finding an edge and then exploiting it. While the majority analyze large and small caps with a fine-tooth comb, a much smaller slice of the investment population ever gives mid-caps much consideration as an asset class.
Is this a mistake?
The S&P 400 MidCap Index was first calculated in January 1981, so we will test from January 1981 through December 2020, a period of fully 40 years. We will use total monthly return data for the following indexes as a proxy for each asset class:
Mid-cap: S&P 400 MidCap Index
Large-cap: S&P 500 Index
Small-cap: Russell 2000 Index
Our first test involves simply buying and holding each index over the fully 40-year period. The chart below displays the cumulative % +(-) for each index from 1981 through 2020.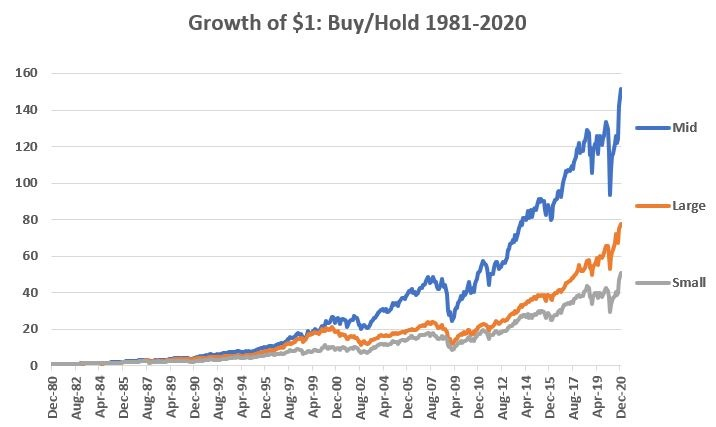 There is little question as to which index performed the best overall on a buy-and-hold basis over the past 40 years.
But looking at rolling 5-year periods, mid-cap stocks are showing one of the most extreme divergences from large-caps on record.
What else we're looking at
A more thorough look at mid-cap stocks versus small- and large-cap
What an extreme 5-year rolling divergence might mean, and why
Our Weekly Wrap shows an argument between market environment and sentiment
What happens in XLE and XOP when oil rig counts do what they've done over the past 6 months

Stat Box



Last week, the smallest of options traders bought to open

22.1 million

equity and ETF call option contracts, a record amount dating back more than 20 years. They spent $11.3 billion on those speculative upside bets, just under the record from the end of August - beginning of September.
Sentiment from other perspectives
People still mostly believe stocks = good and bonds = bad. Source: Topdown Charts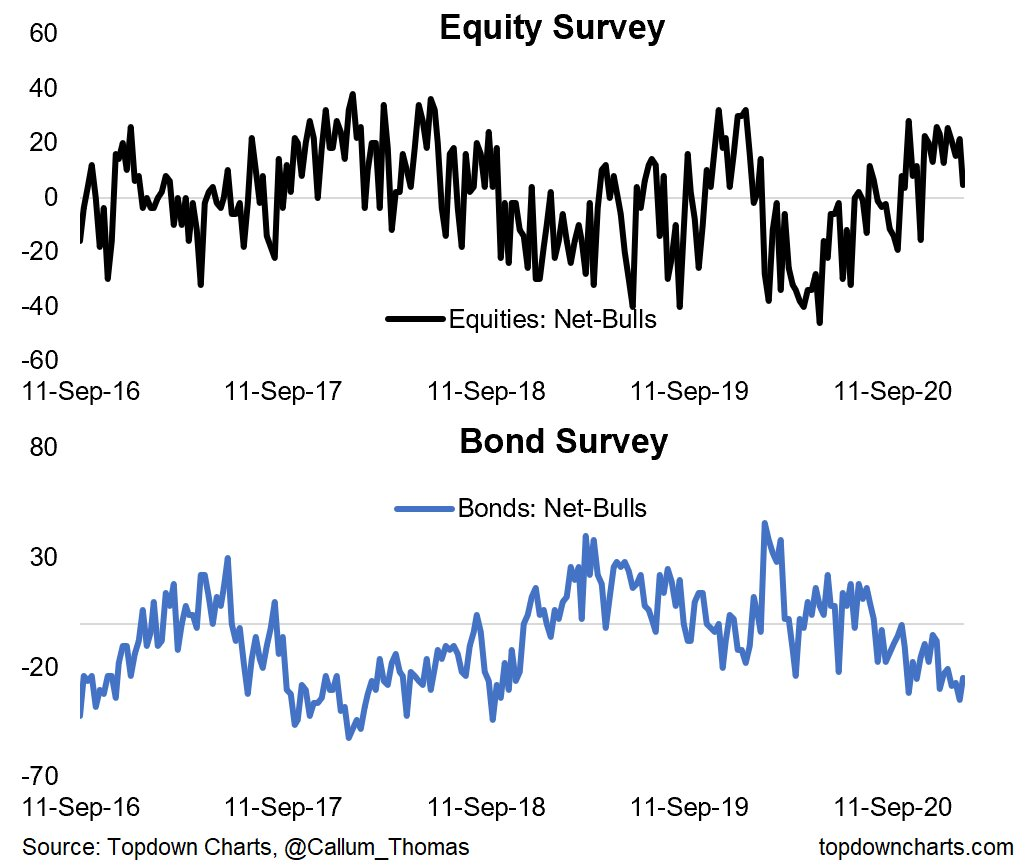 Where else are investors optimistic, besides stocks? Commodities! It's been a long while since we've been able to say that. Money managers, for one, are betting heavily that "stuff" will continue to rally. Source: Longview Economics via Daily Shot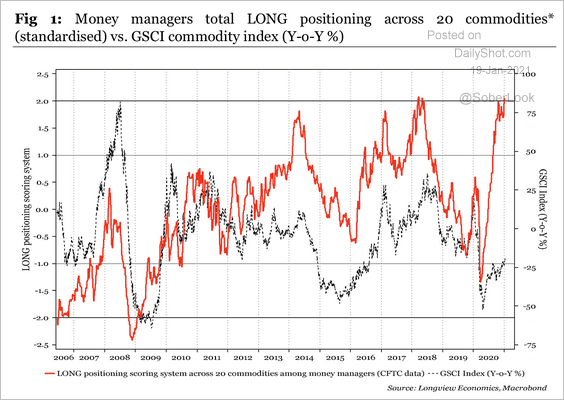 Futures traders tend to be trend-followers, and those commodities trends have been something. Comparing their current move to historical norms, they're well outside the normal range. Source: Thrasher Analytics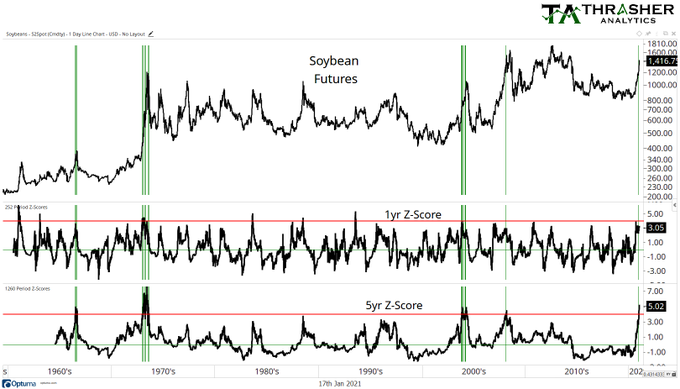 Related Posts:
---
Tagged As:
The post titled Markets' red-headed stepchild was originally published as on SentimenTrader.com on 2021-01-19.
At SentimenTrader.com, our service is not focused on market timing per se, but rather risk management. That may be a distinction without a difference, but it's how we approach the markets. We study signs that suggest it is time to raise or lower market exposure as a function of risk relative to probable reward. It is all about risk-adjusted expectations given existing evidence. Learn more about our service , research, models and indicators.
Follow us on Twitter for up to the minute analysis of market action.
Follow @sentimentrader