Managers Favor U.S. As Market Sees Historic Split
---
---
This is an abridged version of our Daily Report.
There's no place like home
Fund managers are showing a multi-year preference for U.S. stocks. A popular survey from BAML shows that managers are heavily overweight the U.S. versus both emerging market and eurozone stocks. But that hasn't necessarily been a sign that the trend will reverse, unlike what we saw last year.
A historic split
Yet again on Tuesday, an abnormally large number of securities on both the NYSE and Nasdaq exchanges hit either a new 52-week high or low. Over the past 2 weeks, there has been a historic cluster of these "split" signals, and every similar cluster preceded a bear market.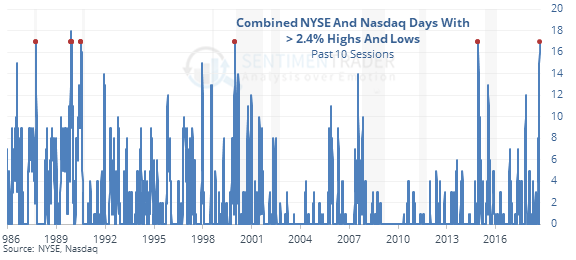 Relative extreme
The ratio between stocks and bonds is getting stretched again. While it gave a wonky signal following the election in November 2016 and outright failed in the fall of 2017, most of the similar extremes over the past 9 years have indicated period when stocks were extended and about to take a breather.
Appetite for junk
The JNK high-yield bond fund has taken in an average of more than $150 million per day over the past week. According to the Backtest Engine, over the past two years, when it has taken in this much in assets in this short of a time frame, it managed a gain over the next month only 33% of the time.
F
or access to the full report, indicators, charts, screens, and Backtest Engine, log in or sign up for a free 30-day trial today.
Related Posts:
---
Tagged As:
The post titled Managers Favor U.S. As Market Sees Historic Split was originally published as on SentimenTrader.com on 2018-09-19.
At SentimenTrader.com, our service is not focused on market timing per se, but rather risk management. That may be a distinction without a difference, but it's how we approach the markets. We study signs that suggest it is time to raise or lower market exposure as a function of risk relative to probable reward. It is all about risk-adjusted expectations given existing evidence. Learn more about our service , research, models and indicators.
Follow us on Twitter for up to the minute analysis of market action.
Follow @sentimentrader