Low Volume As Stocks Go Nowhere - What Does It Mean?
---
---
This is an abridged version of our recent reports and notes. For immediate access with no obligation, sign up for a 30-day free trial now.
Truncated turnover
There are a lot a technical rules that include volume, many of which simply don't work in practice. It's a potential issue now because stocks have been rising on lower volume. As a percentage of market cap, volume is the lowest in a year.

When the S&P climbs near a high, such low volume has been a very minor – and inconsistent – drag on future returns. It happened a lot in the past decade, leading to mostly good returns. Otherwise, it was somewhat mixed, with average returns hovering around random. Risk was a bit high relative to reward, though, which is about the worst we can say about this low volume.
Low volume is just not a consistently negative influence on future returns.
Correlations
The U.S. stock market has swung around over the past 6 months, plenty of market watchers have called for crashes/surges, but overall, the stock market has gone nowhere.
This outcome was not unexpected - after a big rally in January-April, it's hard for stocks to keep rallying at the same pace it did earlier this year. But now that the stock market has been consolidating in a narrow range for months, can it breakout on the upside? Will stocks rally into year-end?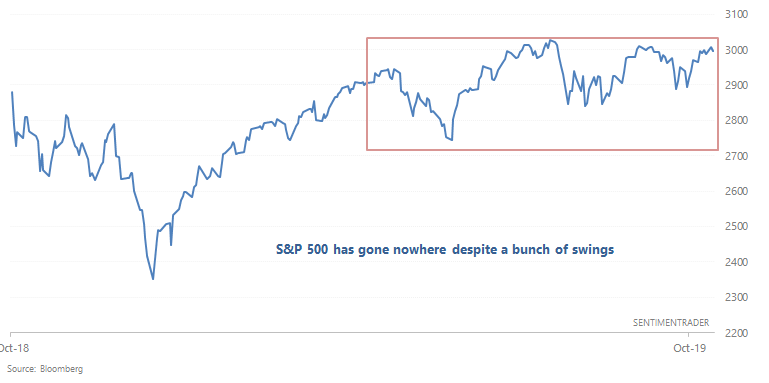 The following table compares the S&P over the past 6 months with other 6 month historical periods, and looks for correlations that are greater than 0.7.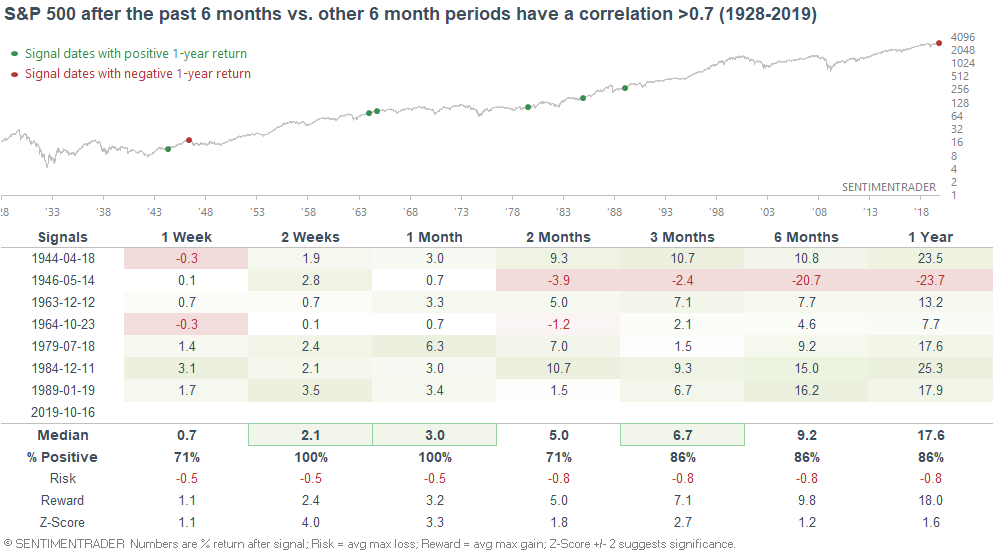 The most similar periods (with a correlation >0.7) were mostly bullish for stocks over the next year. The one big exception was 1946, as investors assumed that the end of WWII would lead to an economic slowdown (as the end of WWI did).

Related Posts:
---
Tagged As:
The post titled Low Volume As Stocks Go Nowhere - What Does It Mean? was originally published as on SentimenTrader.com on 2019-10-24.
At SentimenTrader.com, our service is not focused on market timing per se, but rather risk management. That may be a distinction without a difference, but it's how we approach the markets. We study signs that suggest it is time to raise or lower market exposure as a function of risk relative to probable reward. It is all about risk-adjusted expectations given existing evidence. Learn more about our service , research, models and indicators.
Follow us on Twitter for up to the minute analysis of market action.
Follow @sentimentrader