Low Volatility Beats High Beta; Worst-Case Corrections; Bad BID
---
---
This is an abridged version of our Daily Report.
Rush to safety
Investors have moved into "safe" low-volatility stocks at the expense of "risky" high-beta ones. The ratio between the two just hit a two-year high, which has preceded some trouble for stocks over the shorter-term.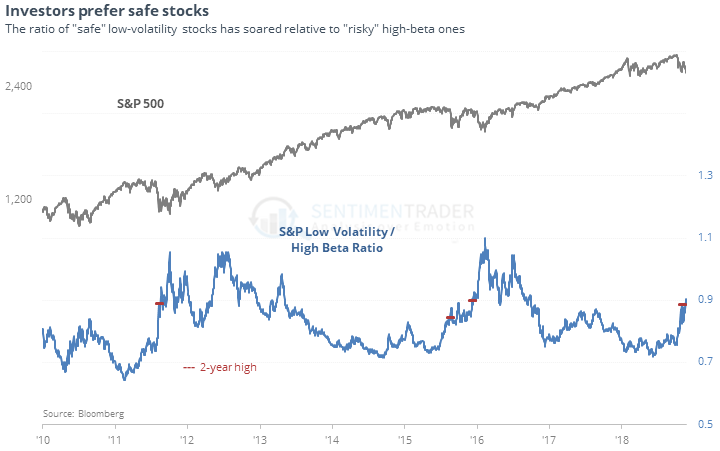 Over the longer-term, which is where this should be most effective, its record was mixed. The S&P did show relatively poor returns, but there were some large gains too. Perhaps most importantly, the risk/reward was skewed heavily to the downside.
Worst-case corrections
If we assume the worst case, that Friday's move into a correction for the S&P 500 morphs into a peak of economic activity and a recession, then most of the damage could already have been done.
It takes the NBER about six months to announce it, by which time the S&P has lost a further 5% on average. But its returns over the next few months were much less severe than most investors would expect. From the date the S&P fell into one of these worst-case corrections until three months later, it showed a gain only once. But its average return was only -2.8%.
Bad BID
The stock of art dealer Sotheby's (BID) has dropped by more than a third from its peak in June. This is often taken as a warning sign for the broader market. We looked at this in the November 11, 2015 report, where declines of 33% in BID correctly preceded 3 major declines in stocks, and had 2 false signals.
The latest Commiments of Traders report was released, covering positions through Tuesday
The 3-Year Min/Max Screen didn't show any new extremes of note (just orange juice and 2-year Treasuries), as hedgers mostly modestly eased back on their existing positions.


Related Posts:
---
Tagged As:
The post titled Low Volatility Beats High Beta; Worst-Case Corrections; Bad BID was originally published as on SentimenTrader.com on 2018-11-27.
At SentimenTrader.com, our service is not focused on market timing per se, but rather risk management. That may be a distinction without a difference, but it's how we approach the markets. We study signs that suggest it is time to raise or lower market exposure as a function of risk relative to probable reward. It is all about risk-adjusted expectations given existing evidence. Learn more about our service , research, models and indicators.
Follow us on Twitter for up to the minute analysis of market action.
Follow @sentimentrader