Looking to financials as a leader as volatility ebbs
---
---
Financials are not leaders
One of the many concerns being bandied about now is the continued relative underperformance of financials. Analysts keep looking for this group to lead, or at least show some signs of relative strength versus the broader market, and they keep disappointing.
It raises a good question - at other recent and important low points, did financials turn up relative to the market before stocks bottomed? We'll look at the most recent inflection points, as well as the more important lows since 1928 to see if there's a pattern.
For those who prefer to read the conclusion first, the answer was "no."
During the depths of the panic in October and November 2008, it's no surprise to see that financials were leading the market lower. That was still the case into the early spring of 2009 as stocks formed a v-shaped bottom and financials were hitting new relative lows that entire time.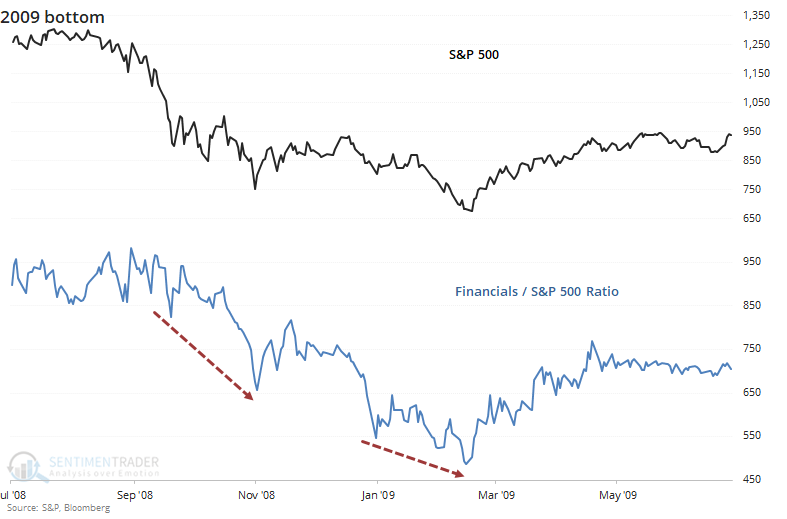 A survey of other major bottoms since 1928 shows a similar pattern.
Volatility is ebbing
The VIX "fear gauge" has fallen 9 out of the past 13 days, while still being relatively elevated. When this happened in the past, the S&P's short term returns were mixed, but mostly positive over the next 6-12 months. Since the VIX itself rarely stays elevated for too long, it typically fell over the next 2+ months.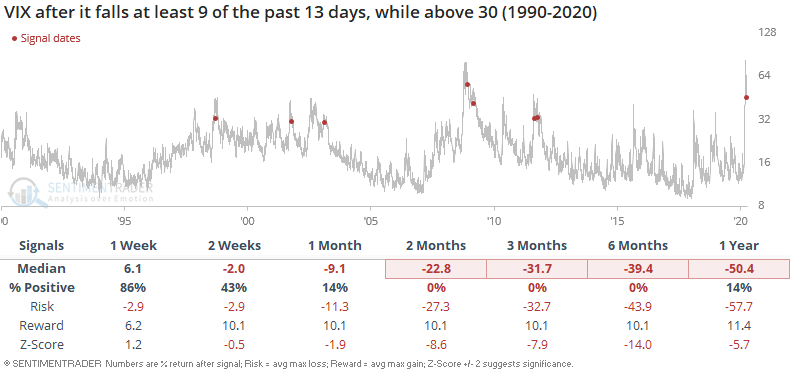 This is an abridged version of our recent reports and notes. For immediate access with no obligation, sign up for a 30-day free trial now.
We also looked at:
We look at all combinations of S&P members below their 200-day averages and ideal holding times for an entry signal
Looking at the S&P / financials ratio at every major low
What happens to various assets after economic surprises plunge
Bull markets are starting to show around the world
Yet another breadth surge on Monday
Our Equity Hedging Index nearly hit a record last week

Related Posts:
---
Tagged As:
The post titled Looking to financials as a leader as volatility ebbs was originally published as on SentimenTrader.com on 2020-04-07.
At SentimenTrader.com, our service is not focused on market timing per se, but rather risk management. That may be a distinction without a difference, but it's how we approach the markets. We study signs that suggest it is time to raise or lower market exposure as a function of risk relative to probable reward. It is all about risk-adjusted expectations given existing evidence. Learn more about our service , research, models and indicators.
Follow us on Twitter for up to the minute analysis of market action.
Follow @sentimentrader