Last-Hour Binge Buying; Shutdown Ends; Consumers' Flagging Expectations
---
---
This is an abridged version of our Daily Report.
Happy ending
Over the past month, the S&P 500 has rallied more than 0.3% on average during the last hour of trading, one of its largest-ever clusters of gains.

Not only has it been aggressive, it has been consistent. As noted by the fine folks at Bespoke Research Group, the S&P has rallied during the last hour on 15 out of the last 20 days. When the S&P is trading below its 200-day average, this kind of late-date buying binge has been a mixed blessing.
Back to work
The ends of the longest shutdowns in the federal government have not been something for investors to cheer in the short-term. There have not been many lately, though, and when those recent ones ended, any weakness was temporary.
That sinking feeling
Consumers' expectations about the future continue to drop dramatically, which is quite different from how they're feeling about the present. The spread between the two is nearing a record low, as their future expectations have collapsed over the past three months.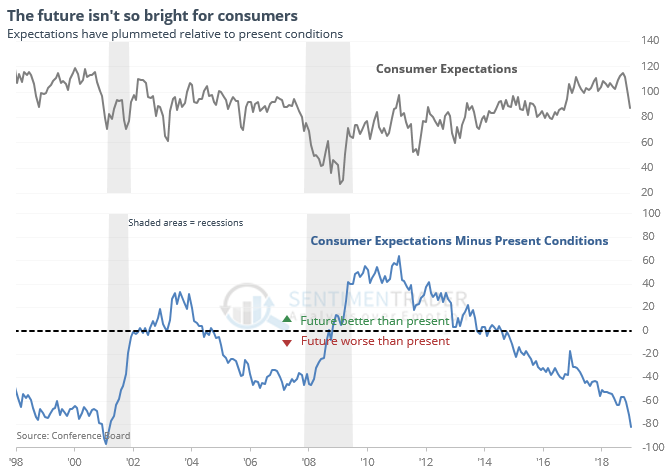 While low readings in the spread have preceded recessions, the timing was so highly variable as to be useless.
Change in pace?
Since the January 2018 meeting, SPY has declined on 7 out of 8 days when the FOMC announced its policy on rates, which it will do again on Wednesday. The day after, it was down 5 of 8 times and even from 6-9 days later, it was still down 6 of the 8.

Related Posts:
---
Tagged As:
The post titled Last-Hour Binge Buying; Shutdown Ends; Consumers' Flagging Expectations was originally published as on SentimenTrader.com on 2019-01-30.
At SentimenTrader.com, our service is not focused on market timing per se, but rather risk management. That may be a distinction without a difference, but it's how we approach the markets. We study signs that suggest it is time to raise or lower market exposure as a function of risk relative to probable reward. It is all about risk-adjusted expectations given existing evidence. Learn more about our service , research, models and indicators.
Follow us on Twitter for up to the minute analysis of market action.
Follow @sentimentrader