Large leap in leverage
---
---
A month ago, we saw that margin debt was picking up. Investors had quickly been becoming more comfortable borrowing funds against their stock holdings, and debt was rising quickly from its low. It kept going.
The latest figures show that debt has jumped more than 33% from a year ago, the fastest pace in about 7 years. It's still below the 60% gains seen at the prior two major peaks, though zooming out to 1950, it's still among the higher rates of change.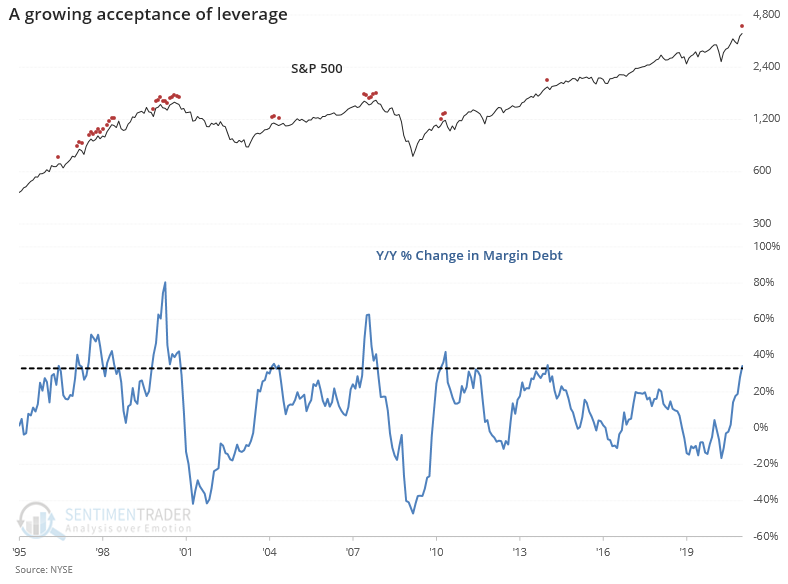 One of the things we've been pointing out since 2015 or so is that even though debt was growing, it was only about in line with the growth in stock prices. We should expect that. It wasn't anything like 2000 and 2007 when debt ballooned "irrationally" more than stock prices.
Lately, we're starting to see the very beginning that this is changing.
What else we're looking at
A long-term look at the growth in margin debt
Also how it has grown relative to the growth in stocks
Recent financial media is using language awfully reminiscent of 20 years ago
What happens when we see a big gap down following a new high
There has been a sudden drop in S&P 500 members outperforming the index
The VIX "fear gauge" saw one of its biggest one-day jumps ever
If you think the long-term bond bull market is ending, DON'T SELL BONDS, just shift your focus

Stat Box



The VIX "fear gauge" jumped more than 40% during the day, then Tesla forced it to move even further after reporting its earnings. It's extremely rare for a single company to have that much influence on S&P 500 options. As it stands, Wednesday was only the 3rd time in history the VIX rose more than

60%

in a day (2007-02-27 and 2018-02-05 were the others).
Sentiment from other perspectives
We're all probably tired of reading, seeing, and listening to stories about GameStop and its cohort of skyrocketing stocks. It's worth bookmarking many of these articles, however, because it is a real-time look at the makings of a bubble, primarily driven by 3 factors.
An easy-digest narrative that contains a grain of truth
A structural market issue that assists in the mispricing of an asset
Price gains driven by no factor other than pure momentum
Bloomberg has done yeoman's work outlining the play-by-play of how this unfolded and what it's meant for some of the players. The steady rise of interest in discussion groups, driving the narrative. Source: Bloomberg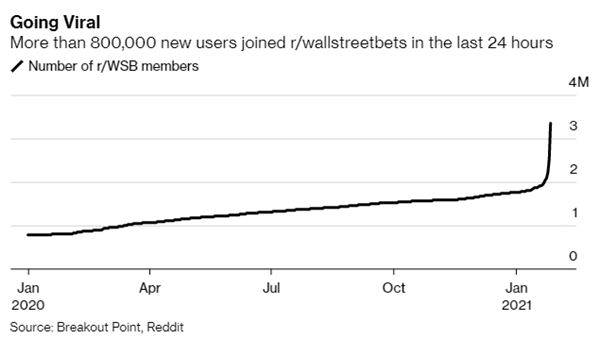 The crush of buying interest caused volatility among some funds, which were forced to cover short bets or sell others to limit their overall exposure. Source: Bloomberg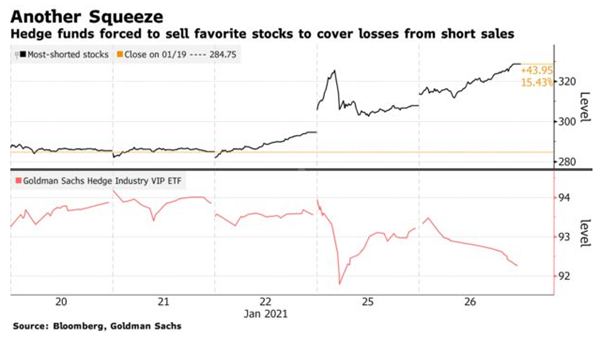 These things are typically in their final stages when unrelated tickers see a sudden bout of trading activity, often due to the simple reason that so many people entered the wrong symbol on their buy orders. Source: Bloomberg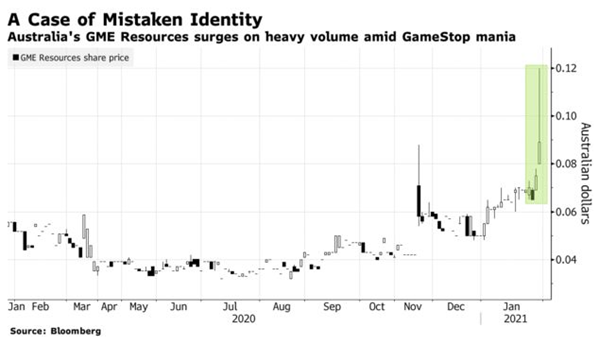 Related Posts:
---
Tagged As:
The post titled Large leap in leverage was originally published as on SentimenTrader.com on 2021-01-28.
At SentimenTrader.com, our service is not focused on market timing per se, but rather risk management. That may be a distinction without a difference, but it's how we approach the markets. We study signs that suggest it is time to raise or lower market exposure as a function of risk relative to probable reward. It is all about risk-adjusted expectations given existing evidence. Learn more about our service , research, models and indicators.
Follow us on Twitter for up to the minute analysis of market action.
Follow @sentimentrader