Keeping an Eye on Platinum
---
---
It is no secret that markets tend to move in waves. A given market will trend higher for a while - with countertrend movements interspersed along the way - and at other times, the same market will trend lower for a while.
And often, as the primary trend is changing, there is a period of great doubt as bulls and bears struggle for control. There can be a volatile trading range during these periods - OR an incredible amount of calm with seemingly little going on in that particular market.
But ultimately, the time for "deciding" comes. At that point, traders need to be most focused on the market and prepared mentally and financially to do what they must to latch onto and profit from the next major trend.
A market that appears to fit this bill at the moment is platinum. So, Jay recently took a closer look under the hood.
Consider the monthly chart of platinum futures (using continuous spot-month data) that appears below.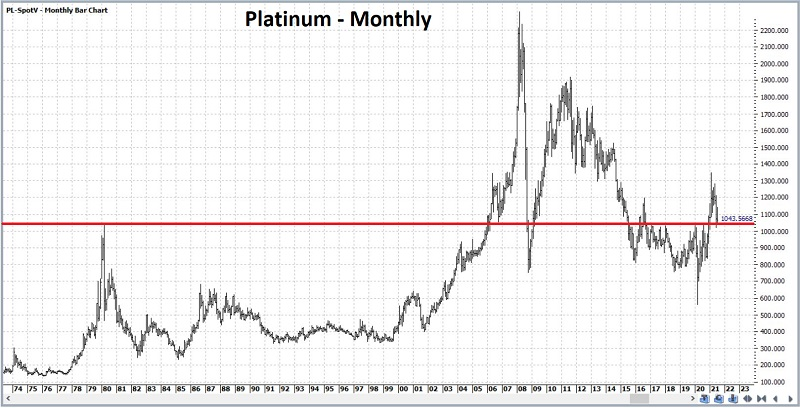 Platinum rallied sharply in the late 1970s before topping out near $1045 an ounce in early 1980. It then fell back and did not exceed $1045 again for another 26 years. After another 15 years of some big up and down swings, platinum is about where it stood in the early 1980s. Whether or not the price of platinum can hold against its long-term support/resistance price is an important piece of information.
The trend for platinum looks mixed depending on the time frame. That makes it harder to discern probabilities going forward, as the metal is entering a seasonally weak time of year.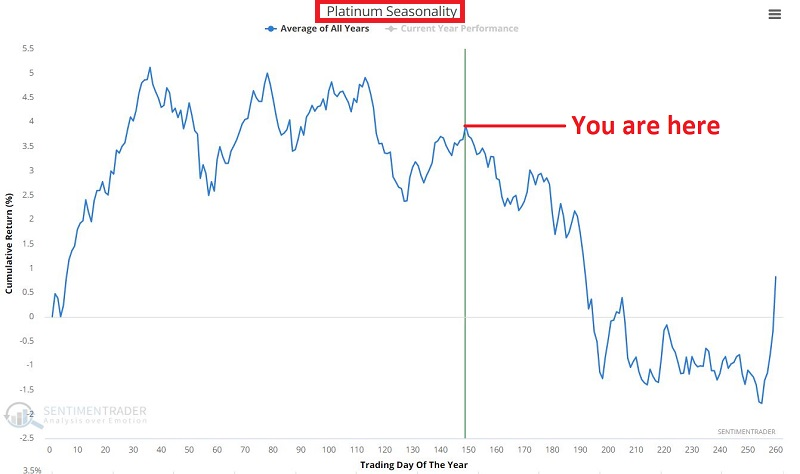 The win rate for platinum during the next 50 days has been 47%; however, the average loss has been almost twice as much as the average gain. In essence, when platinum is good (during this particular timeframe), it's "OK," but when it's bad, it's "awful."
Also, our Optimism Index for platinum recently crossed below 67%, showing high but declining confidence. During the past decade, similar signals preceded losses in platinum every time.

---
What else we're looking at
Returns in platinum following high but ebbing optimism
Smart money hedgers are heavily short orange juice
---
Stat box



The S&P 500 rose for its 6th consecutive month while closing at an all-time high. Of the other times the index has done this since 1928, it continued to rise over the next 3 months 13 out of 15 times.
---
Etcetera
No energy. The percentage of XLE stocks trading above their 50-day average has dropped to zero for the first time since Aug. 2020 and been stuck there for over a week.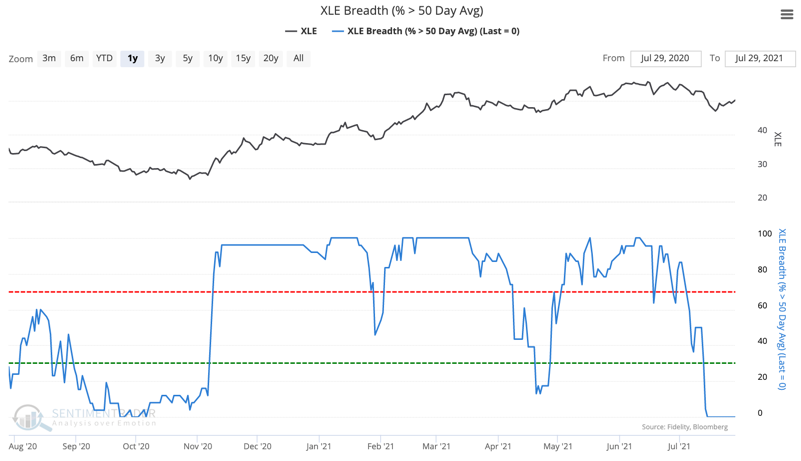 Skeptics. The CSFB Fear Barometer has reached its highest point since mid-2017, supposedly showing that traders are paying up for protection against a market decline.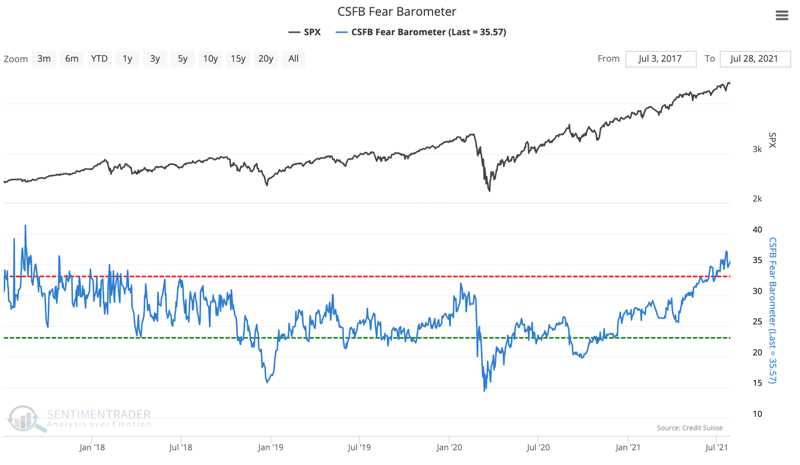 Go big or go bear. Non-options traders are betting heavily on higher prices. The Rydex Total Leveraged Bull / Bear Ratio has reached a new high, with 60 times more assets in leveraged bullish funds than bearish ones.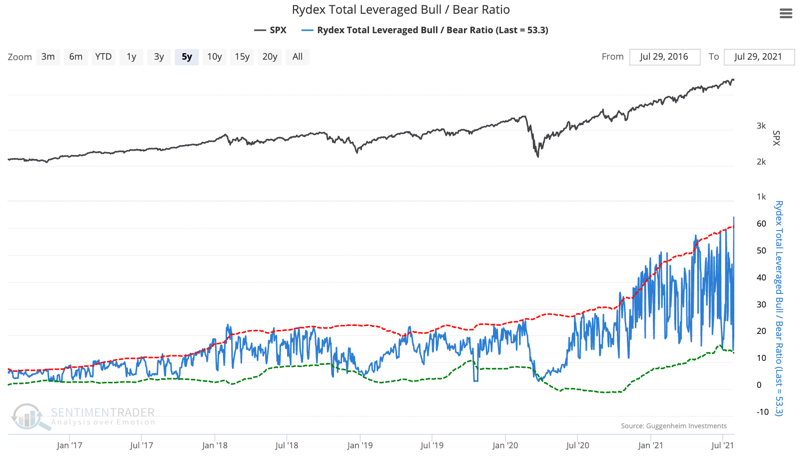 The post titled Keeping an Eye on Platinum was originally published as on SentimenTrader.com on 2021-08-02.
At SentimenTrader.com, our service is not focused on market timing per se, but rather risk management. That may be a distinction without a difference, but it's how we approach the markets. We study signs that suggest it is time to raise or lower market exposure as a function of risk relative to probable reward. It is all about risk-adjusted expectations given existing evidence. Learn more about our service , research, models and indicators.
Follow us on Twitter for up to the minute analysis of market action.
Follow @sentimentrader