January's Prediction Record, Soaring Materials And The "Not Too Hot" Streak
---
---

This is an abridged version of our Daily Report.
So goes January…or August
A popular rule of thumb suggests that how stocks start a New Year means something for the full year. It correctly predicts the return over the next year about 60% of the time.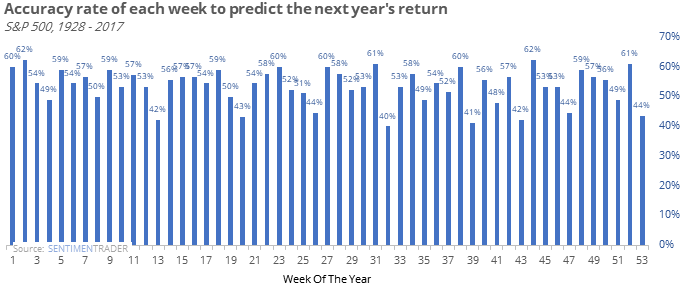 That's likely a statistical fluke, and other weeks have just as good, or better, predictive record.
Material momentum
A rally in Materials stocks over the past couple of weeks has driven most of them to 52-week highs. For the first time since 2007, more than half the stocks in the sector reached a new high together.

Since 1990, that has been a signal of buying exhaustion.
The not-too-hot uptrend has ended
The S&P went more than 380 days above its 200-day average, but not more than 10% above it.

For the first time ever, that kind of streak ended with a move to the upside. The only two time periods that had a similar streak ended with a move below the 200-day.
Payroll report
Since 2014, when the S&P closed at a new high on the day of the Nonfarm Payroll report, over the next week it added to its gains only 22% of the time.
The latest Commitments of Traders report was released, covering positions through Tuesday
"Smart money" hedgers are still heavily long the agriculture contracts that make up the DBA fund.
For access to the full report, indicators, charts, screens, and Backtest Engine, log in or sign up for a free 30-day trial today.
Related Posts:
---
Tagged As:
The post titled January's Prediction Record, Soaring Materials And The "Not Too Hot" Streak was originally published as on SentimenTrader.com on 2018-01-08.
At SentimenTrader.com, our service is not focused on market timing per se, but rather risk management. That may be a distinction without a difference, but it's how we approach the markets. We study signs that suggest it is time to raise or lower market exposure as a function of risk relative to probable reward. It is all about risk-adjusted expectations given existing evidence. Learn more about our service , research, models and indicators.
Follow us on Twitter for up to the minute analysis of market action.
Follow @sentimentrader