Is the "smart money" really selling?
---
---
Stocks are wildly overvalued, risk is the highest it's ever been, and some of the best investors in history see no reason to deploy cash. That's been the tone of repeated articles in the past week, suggesting that now is no time to buy.
While there isn't always a direct correlation between what respected investors say publicly and what they do privately, some indicators attempt to monitor their activity by looking at how stocks do during various times of the day. The most popular, by far, is some version of the Smart Money Flow Index (SMFI), which looks at trading activity before the close relative to the rest of the day.
The idea is that the most informed investors watch activity during the day, absorb as much information as possible, then transact before the close of regular trading hours. Whether that's actually true or not is debatable. Especially lately, since ETFs have become such a large part of the market and they drive an increasing amount of the volume in the last half hour.
Over the past month, the S&P 500 has been rising steadily while the SMFI has been declining. Even though it uses the Dow instead of S&P, our version which focuses on the S&P during more narrow windows is also declining quickly.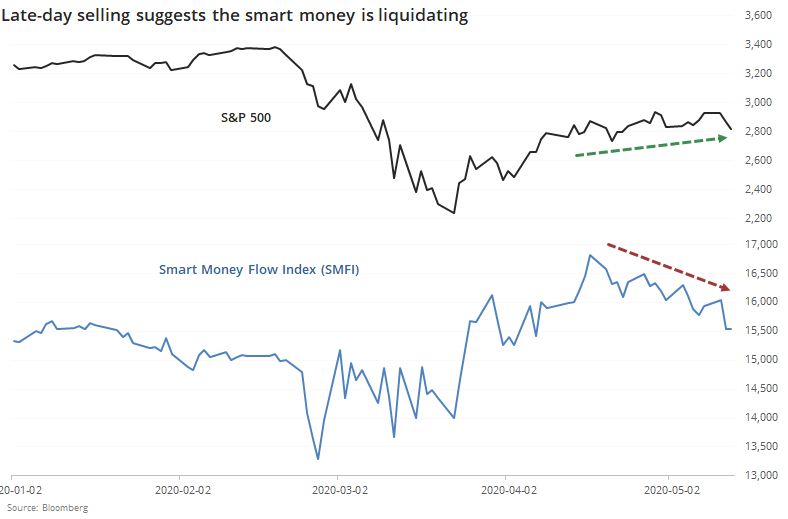 When the S&P rallied during downtrends and the smart money was selling, it dragged on returns over the next couple of weeks. Across the other time frames, its returns were about in line with random - this was an inconsistent predictor.
The recent drop in the Smart Money Flow Index might be a worry, but it should be only a minor one at worst.
This is an abridged version of our recent reports and notes. For immediate access with no obligation, sign up for a 30-day free trial now.
We also looked at:
What happens when the SMFI is near a 20-day low while the S&P 500 is near a 20-day high
Institutions are much more confident about stocks than individuals are
In South Korea, a large number of stocks are throwing off sell signals, but it doesn't mean what it looks like
Individual investors are still extremely bearish, according to one survey

The post titled Is the "smart money" really selling? was originally published as on SentimenTrader.com on 2020-05-15.
At SentimenTrader.com, our service is not focused on market timing per se, but rather risk management. That may be a distinction without a difference, but it's how we approach the markets. We study signs that suggest it is time to raise or lower market exposure as a function of risk relative to probable reward. It is all about risk-adjusted expectations given existing evidence. Learn more about our service , research, models and indicators.
Follow us on Twitter for up to the minute analysis of market action.
Follow @sentimentrader