Is The Crash in the Lumber to Gold Ratio a Good Sell Signal?
---
---
The ratio of lumber to gold is crashing, and it's raising concerns among some investors.
Lumber is considered a proxy for economic growth since it's an input to many construction projects. Gold is considered a "safe haven" asset that investors flock to in times of duress. Both assertions are questionable, but when the ratio of lumber to gold is rising, the theory is that investors are focused more on growth than safety, and it's a risk-on environment.
Ever since the Optimism Index on lumber hit 90%, lumber has been in a free-fall, surpassing the last couple of post-euphoria crashes in speed, if not magnitude.
The last time the ratio crash, it preceded trouble in the S&P.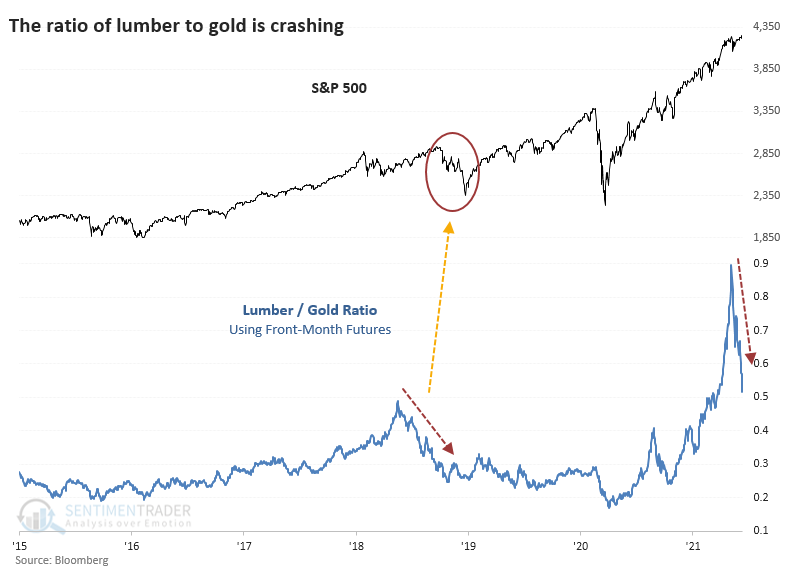 The trouble with charts is their subjectivity. So, we went back to the inception of the futures market for both contracts and looked at every time when the lumber / gold ratio cycled from a 3-year high to a 50-day low. On average, it took 29 days for the ratio to cycle like this, which is quick.
It was not a good reason to sell stocks. The S&P 500 did crack a couple of times, including the one noted above. It preceded the 1990 recession scare and kinda-sorta the popping of the 2000 bubble. It was, however, a pretty good reason to sell lumber.
What else we're looking at
Full returns in the S&P 500, lumber, and gold following a cycle in the lumber / gold ratio
What happened to the ratio between lumber and gold after these signals
How a crash in the ratio impacted homebuilding stocks, as well as major sectors and factors
Our Composite Breadth Rank for the S&P 500 is sliding
A close look at cotton and its outlook
There has been a spike of financial stocks falling to one-month lows - what it means going forward

---
Stat box



An average of more than $150 million per day has flowed into the TLT bond fund over the past two weeks. Our Backtest Engine shows that after similar inflows, TLT rose over the next two weeks only 28% of the time.
---
Etcetera
Calling all bears. The LOBO Put/Call Ratio has hit its lowest point since March of 2000, falling to 0.4. The term "LOBO" is an acronym for Large Open Buys Only and represents the volume of put options bought to open by the largest of traders versus the volume call options bought to open. The fact that it is the lowest in 20 years shows that even the largest traders have no interest in hedging.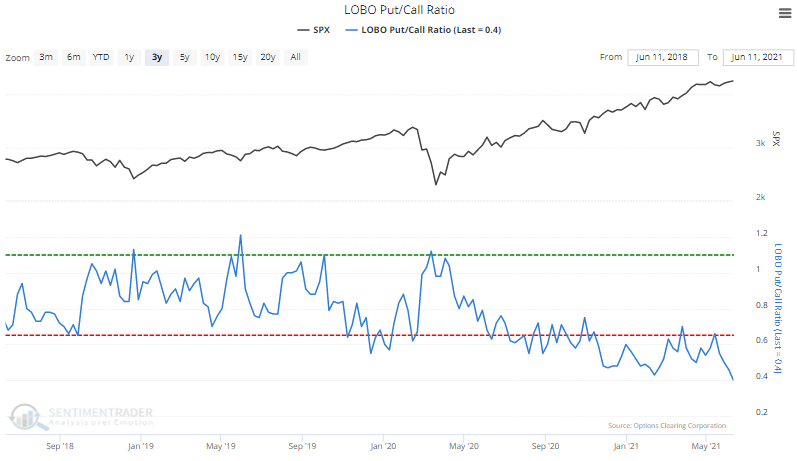 Caffeine buzz. With around 75,000 contracts net short, "smart money" commercial hedgers in coffee have been holding their largest exposure against the contract in history.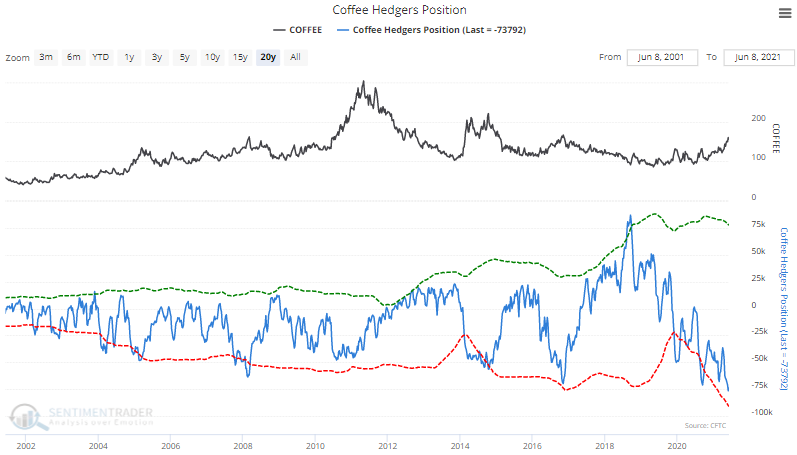 Feeling social. Twitter users are becoming more bullish on emerging markets. Our Social Sentiment score, which functions like a put/call ratio, showed more than two negative tweets about the EEM fund for every positive one in early May. That has since switched, with about twice as many positive as negative tweets in recent days.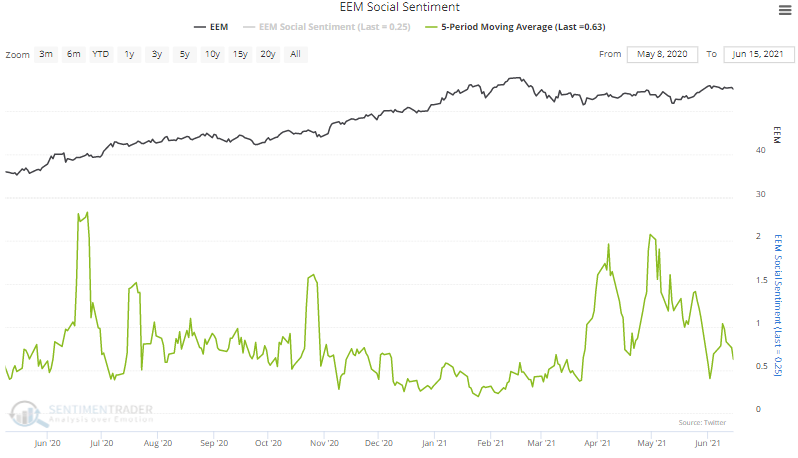 The post titled Is The Crash in the Lumber to Gold Ratio a Good Sell Signal? was originally published as on SentimenTrader.com on 2021-06-16.
At SentimenTrader.com, our service is not focused on market timing per se, but rather risk management. That may be a distinction without a difference, but it's how we approach the markets. We study signs that suggest it is time to raise or lower market exposure as a function of risk relative to probable reward. It is all about risk-adjusted expectations given existing evidence. Learn more about our service , research, models and indicators.
Follow us on Twitter for up to the minute analysis of market action.
Follow @sentimentrader