IPO Fervor Returns
---
---
Overseas out, bonds in
Near the end of April, investors fled non-U.S. equity funds, with the 2nd-largest outflow in five years. That has been a good contrary indicator in the past.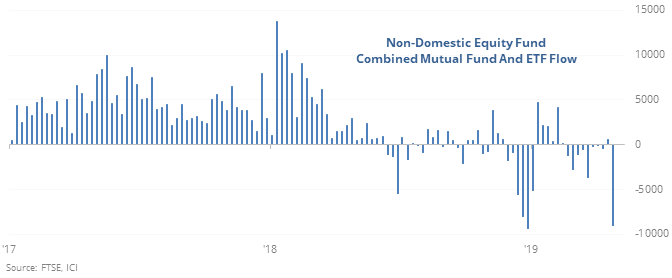 At the same time, they moved more into bonds, with other measures confirming the increasingly consensus sentiment that yields should keep declining.
Return of IPO fervor
It was barely three years ago that the IPO market was moribund. It's returning in an increasingly hyped-up way, and on Thursday a billion-dollar (valued) new issued saw its stock more than double from its offer price intraday.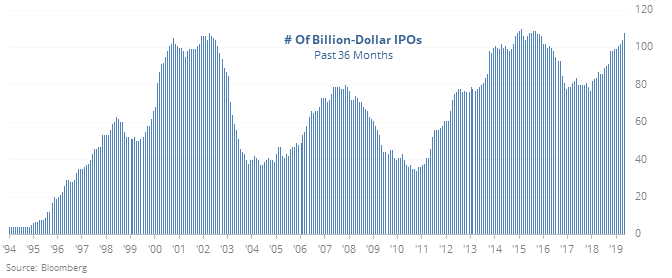 We've seen in reports from years past that this has been a long-term troubling signal for stocks. This year is on track to break records for various measures of IPO issuance and returns, and none of those have been good signs.
More bonds
In addition to the bond sentiment noted above, the TLT fund has taken in an average of more than $100 million per day during the past month. The Backtest Engine shows that TLT was higher a month later only 13% of the time, averaging -1.5%, after other days with such heavy inflow. When TLT averaged an outflow of more than $50 million per day, then it rallied 64% of the time, averaging 0.5%.
Tweeps are bullish on the Dow
Social Sentiment for the Dow Industrials fund, DIA, has averaged less than 1.0 for the past 20 days, meaning there are fewer pessimistic tweets about the fund than optimistic ones (like a put/call ratio, the higher the number, the more pessimism there is). According to the Backtest Engine, over the past 5 years DIA has been positive a month later 43% of the time. That compares to 78% of the time when the 20-day average is above 1.25.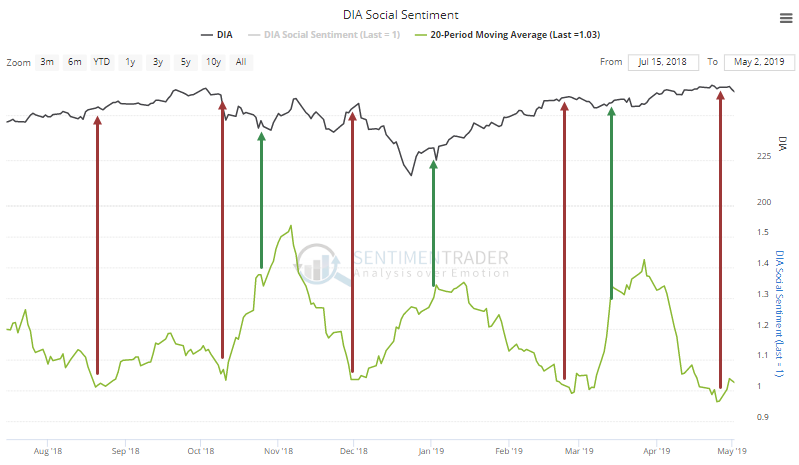 This post was an abridged version of our previous day's Daily Report. For full access, sign up for a 30-day free trial now.

Related Posts:
---
Tagged As:
The post titled IPO Fervor Returns was originally published as on SentimenTrader.com on 2019-05-03.
At SentimenTrader.com, our service is not focused on market timing per se, but rather risk management. That may be a distinction without a difference, but it's how we approach the markets. We study signs that suggest it is time to raise or lower market exposure as a function of risk relative to probable reward. It is all about risk-adjusted expectations given existing evidence. Learn more about our service , research, models and indicators.
Follow us on Twitter for up to the minute analysis of market action.
Follow @sentimentrader