Investors' Very (Very, Very) Good Year
---
---
The value of household equities in 2019 is going to show one of the best gains on record.
Investors' very good year
The value of American households' holdings in corporate equities and mutual funds has surged 25% over the past year to a new high. This ranks 2019 among the very best since 1951.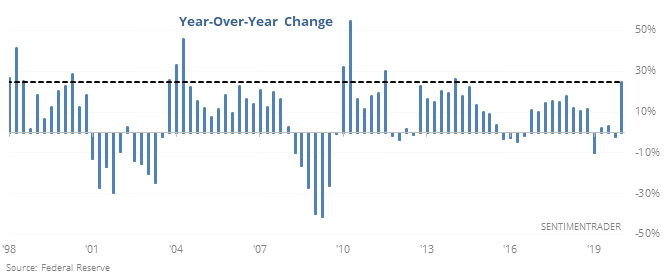 Once the calendar turned after other "very good years", a hangover often begun. Even if we look at any quarter when this triggered and not just Q4, then we see the same pattern. Very poor returns over the next 2-4 weeks, with high risk and low reward, then about-average returns after that.
Equity Put/Call
The Equity Put/Call Ratio can slip into trends over time. Our de-trended look at the ratio is now at its lowest level since January 2018. Stocks tanked and VIX spiked the last time the ratio was this low.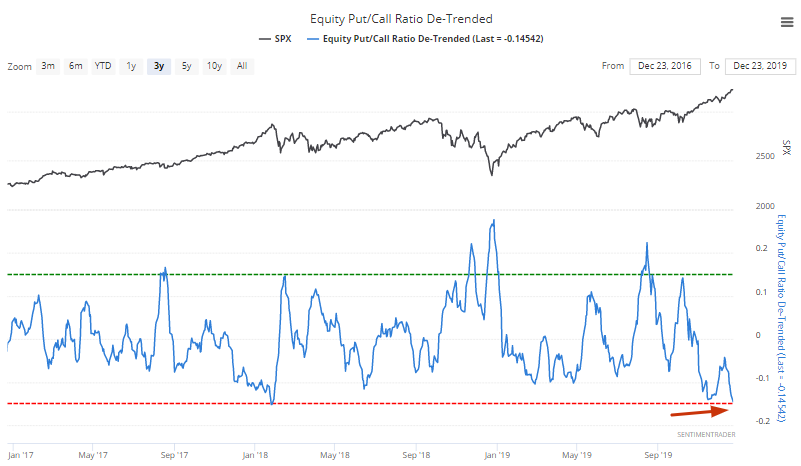 To avoid recency bias, we can look at every case in which the Equity Put/Call ratio (de-trended) fell to -0.145.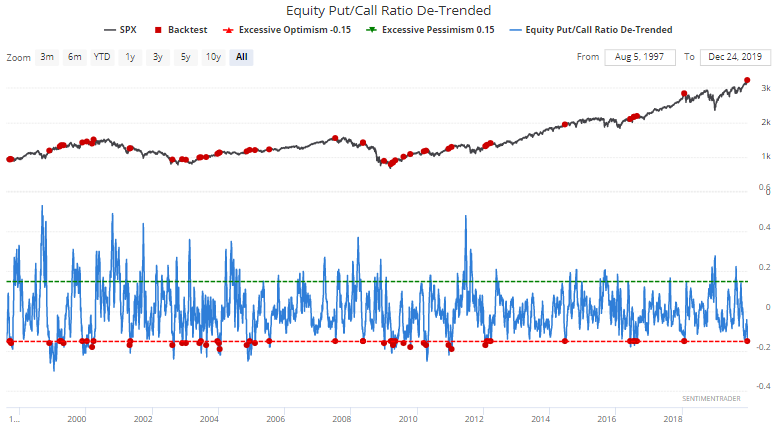 As you can see, the S&P's returns over the next few months were consistently worse than average.
This is an abridged version of our recent reports and notes. For immediate access with no obligation, sign up for a 30-day free trial now.
We also looked at:
What happens when equity hedging plunges
The Nasdaq Composite enjoyed its 8th straight record close
The 7-day average intraday range in the S&P 500 futures is at a record low
Small options traders are buying lots of speculative calls
Every major market is on track to rally in 2019 for the 1st time in 13 years
The Value Line Geometric Average has broken out
What it means when the 5-day New High / New Low Ratio hits a 6-month high
The Australian dollar just ended a historic streak

The post titled Investors' Very (Very, Very) Good Year was originally published as on SentimenTrader.com on 2019-12-24.
At SentimenTrader.com, our service is not focused on market timing per se, but rather risk management. That may be a distinction without a difference, but it's how we approach the markets. We study signs that suggest it is time to raise or lower market exposure as a function of risk relative to probable reward. It is all about risk-adjusted expectations given existing evidence. Learn more about our service , research, models and indicators.
Follow us on Twitter for up to the minute analysis of market action.
Follow @sentimentrader