Investors keep borrowing...and borrowing...and borrowing
---
---
NOTE: This report will be published only sporadically during the week of November 22 - 26.
Bears' favorite boogeyman
One of the perma-bears' favorite boogeymen is margin debt, the dollar amount of loans taken out against existing stock holdings. Investors can use these loans to buy more stock, withdraw cash to pay for a kid's education, a new car, or whatever they like. Regardless of the reason, when investors feel confident enough to borrow using public stock as collateral, it's a sign of complacency.
Lately, that complacency has gone parabolic, with margin debt reaching another record high.
Even more troubling, its rate of growth exceeded 50% in the spring, which is what we saw at the speculative peaks in 2000 and 2007. We looked at this in April, along with other signs of excessive complacency. And it didn't matter one whit, at least for indexes like the S&P 500. Many speculative areas took a hit during the summer, and the overall advance/decline line flattened, but no real lasting damage was done.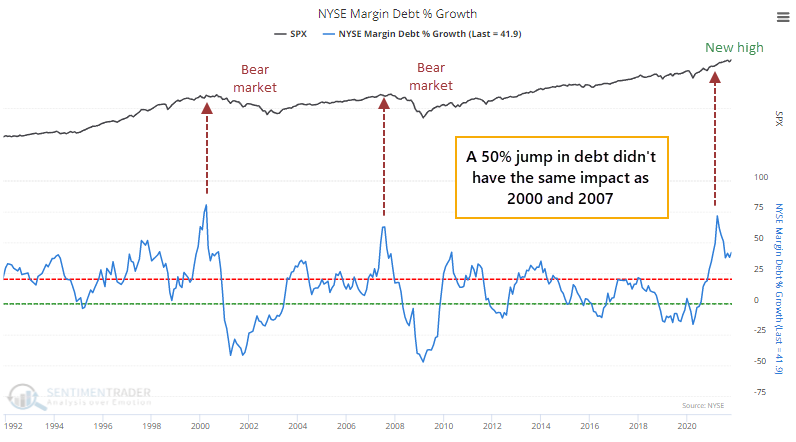 It's very rare to see the rate of growth in debt stay so high over such a prolonged period. The 10-month average rate of change is now approaching 50%.
When looking at debt relative to the value of stocks, it's only about where it was 15 years ago. More troubling is that free cash balances have dropped, and investors' net worth is at record lows.

Stat box



A Hindenburg Omen technical warning sign was triggered on the Nasdaq exchange on Thursday. According to our Backtest Engine, the signal has been triggered 49 times in the past decade. During the following week, the Nasdaq Composite showed a positive return only 17 times.
Two sectors that insiders are buying
Corporate insiders are considered to be "smart money" because they have the most direct knowledge and influence on a public company's shares. While they sell for many reasons, they typically buy because they have confidence in their companies and think prices will rise as their good performance is recognized by the market.
Among stocks in the Materials sectors, these insiders apparently see some value. The number of insider buying transactions in these shares over the past six months has risen to the highest level in a year.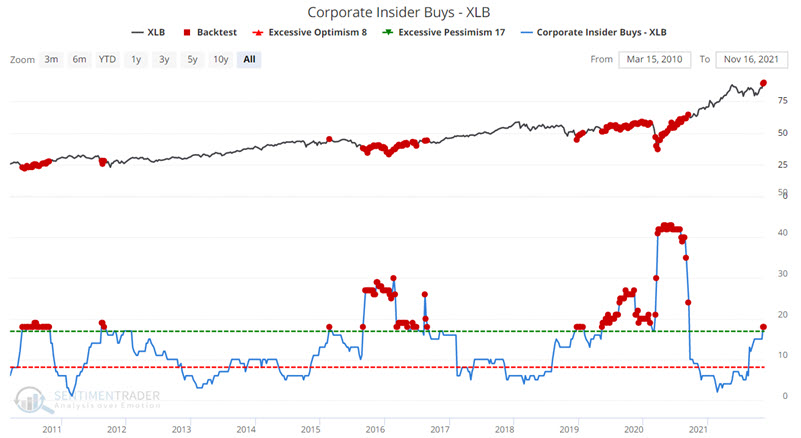 Insiders often tend to accumulate shares over several months. So, it will be interesting to see if the latest reading is a one-off event (like late 2011 and early 2015) or if it develops into another period of accumulation.
Looking at insider selling pressure fleshes out the picture a bit more. And it's even more compelling in the Technology sector.


The post titled Investors keep borrowing...and borrowing...and borrowing was originally published as on SentimenTrader.com on 2021-11-19.
At SentimenTrader.com, our service is not focused on market timing per se, but rather risk management. That may be a distinction without a difference, but it's how we approach the markets. We study signs that suggest it is time to raise or lower market exposure as a function of risk relative to probable reward. It is all about risk-adjusted expectations given existing evidence. Learn more about our service , research, models and indicators.
Follow us on Twitter for up to the minute analysis of market action.
Follow @sentimentrader