Investors Cycle Into Cyclicals, Tech
---
---
Cyclical rebound
Cyclical stocks got hit hard late last year, especially relative to defensive stocks. They've made an impressive rebound. The rate of change on the ratio of cyclical to defensive stocks has cycled from an extreme low to an extreme high.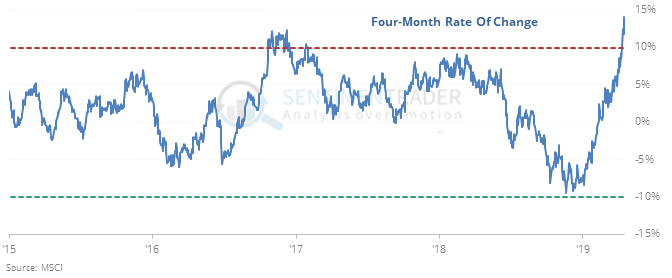 Over the past 20 years, a cycle like this has led to mean-reversion the few other times it happened to this degree, with defensive stocks outperforming by a significant degree.
Tech breakout
While buyers didn't seem interested in chasing the Nasdaq 100's breakout to a new high, at least on an intraday basis it bested its previous high by more than 0.5%, ending a streak of more than six months in a drawdown.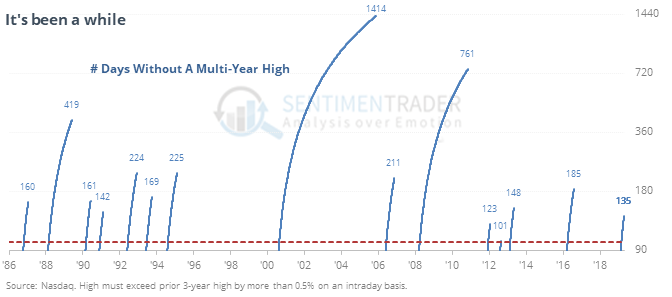 The other times that tech-heavy index ended such a long streak without a new high, it added to its gains in the months ahead almost every time. So did the S&P 500.
Exhausted
Single-day reversal patterns are fickle, so it's hard to put much weight on Wednesday's session. For what it's worth, there have been 18 other times that SPY hit an intraday 52-week high then closed at its lowest level in four sessions. Over the next week, it rebounded 41% of the time with an average return of -0.1%.
Rush to the exits
The Optimism Index on the XLV health care fund has plunged to a lowly 2. Since 2000, when it was at this level or lower, XLV rebounded over the next month after 45 of 54 attempts, averaging 5.1%, according to the Backtest Engine.
This post was an abridged version of our previous day's Daily Report. For full access, sign up for a 30-day free trial now.

The post titled Investors Cycle Into Cyclicals, Tech was originally published as on SentimenTrader.com on 2019-04-18.
At SentimenTrader.com, our service is not focused on market timing per se, but rather risk management. That may be a distinction without a difference, but it's how we approach the markets. We study signs that suggest it is time to raise or lower market exposure as a function of risk relative to probable reward. It is all about risk-adjusted expectations given existing evidence. Learn more about our service , research, models and indicators.
Follow us on Twitter for up to the minute analysis of market action.
Follow @sentimentrader