Investors buy (on margin) as insiders sell
---
---
It hardly seems effective to outline yet more extremes in sentiment. We've noted them repeatedly since January and yet here we are, recently at new highs in many indexes. Momentum has been everything, with massive thrusts across industries and even global indexes, and we're still not seeing any major risk warnings among them.
So at the risk of tilting at even more windmills, let's touch on some further extremes because it's either something we've noted before or because it's just remarkable.
A month ago, we estimated that margin debt would rise enough in March to push its year-over-year change to 73%. It didn't quite pan out that way, as the growth ended up being "only" 72%.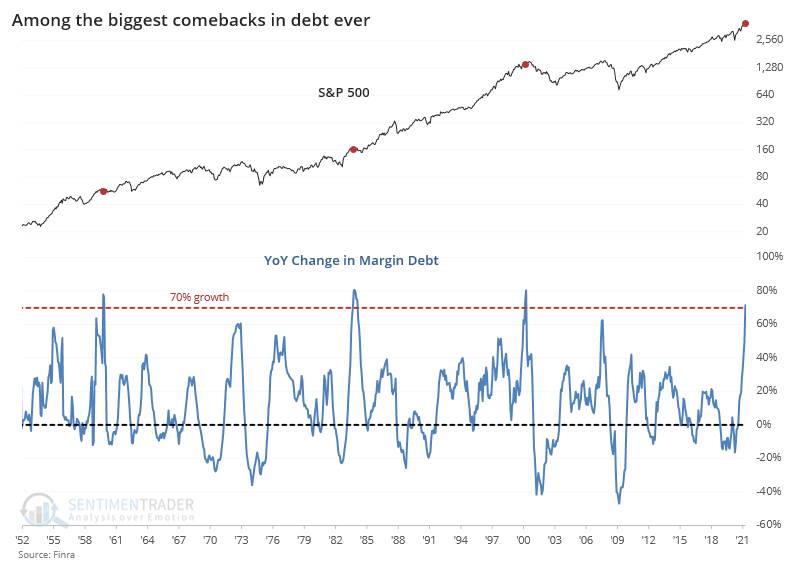 This is the 2nd-highest rate of growth in 35 years, though as noted before, relative to the growth in the S&P 500, it's been hovering around 20%, which isn't as extreme as 2000 or 2007.
At the same time that investors are feeling so euphoric, corporate insiders appear to be selling. A weekly ratio of insider sales to buys as computed by Thomson Reuters skyrocketed to an astounding 143-to-1, the highest in the weekly readings as reported by Barron's in at least 16 years.
Our Corporate Insider Buy/Sell Ratio remains near a decade low. While spikes in insider buying vs. selling is a much more consistent buy signal for stocks than a drop is as a sell signal, it would be better to see this at least in neutral territory.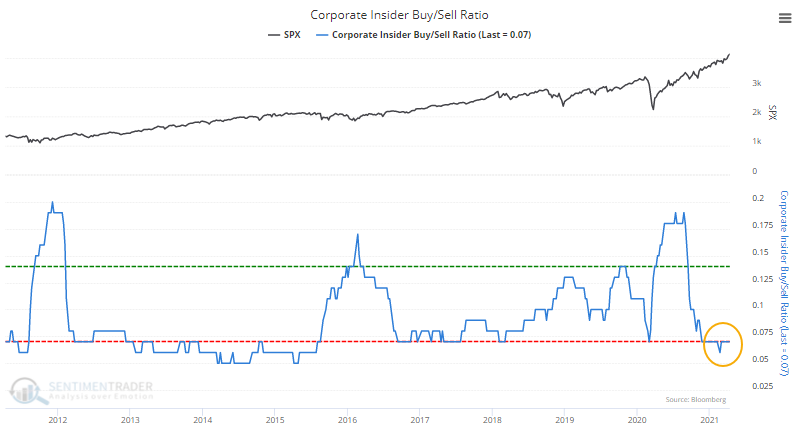 Among sectors, there are 3 in particular that stand out for especially low insider buying versus selling activity.

Stat Box



Social media users hate biotech stocks. Using machine learning, our Social Sentiment score shows that over a 10-day period, there were recently more than

2

negative tweets about biotech stocks for every 1 positive tweet, nearing the most in 5 years.
What else we're looking at
The Risk Appetite Index is nearing a 3-year high
Leveraged ETF assets have hit record highs
Mutual fund timers have never been so aggresive
Small options traders are coming back
Smart money corporate insiders are selling heavily
A Sentiment Composite may be nearing a sell signal
Using a call option calendar spread to limit risk and participate in gains

The post titled Investors buy (on margin) as insiders sell was originally published as on SentimenTrader.com on 2021-04-20.
At SentimenTrader.com, our service is not focused on market timing per se, but rather risk management. That may be a distinction without a difference, but it's how we approach the markets. We study signs that suggest it is time to raise or lower market exposure as a function of risk relative to probable reward. It is all about risk-adjusted expectations given existing evidence. Learn more about our service , research, models and indicators.
Follow us on Twitter for up to the minute analysis of market action.
Follow @sentimentrader