Investors are saying one thing, but doing another
---
---
Investors are saying one thing, and doing another. What to believe?
The latest survey from AAII showed that investors are still apathetic about this rally. Or at least, that's what they're saying. The 5-week average of bullish respondents is among the lowest in 20 years.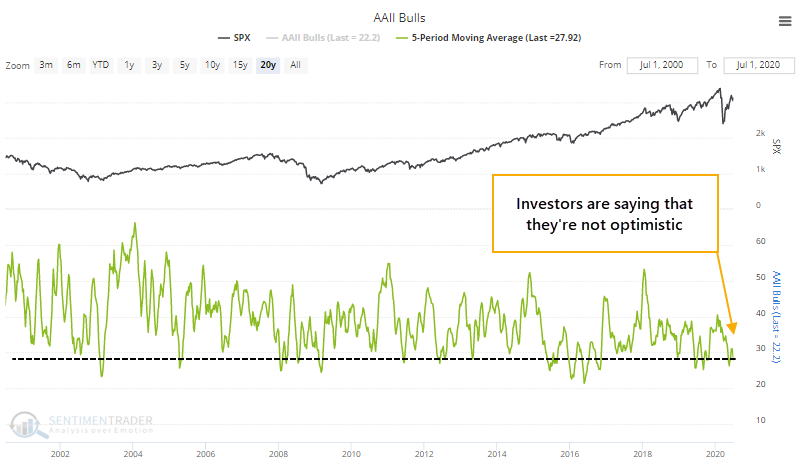 And yet, many of these same investors have increased their allocation to stocks. At 63% of their portfolios, stocks are on the high end of allocations over the past 20 years.
That divergence between saying vs doing has led to one of the widest spreads in the survey's history. We pay more attention to real-money gauges than we do surveys, though the latter do have their uses. This is one of those cases where the survey was a better contrary guide than was the actual allocation.
Currently, investors in the AAII poll were at least 35% more allocated to stocks than they said they were. Theoretically, this should be a negative for future returns, but there was no evidence of that, especially over the medium-term.
This is an abridged version of our recent reports and notes. For immediate access with no obligation, sign up for a 30-day free trial now.
We also looked at:
A full look at the divergence in AAII asset allocation versus opinion
Chinese stocks have hit a 1-year high
A lot of them are also overbought and above their volatility bands
The 30-day average of the Nasdaq new high / new low ratio is the highest in 7 years

Related Posts:
---
Tagged As:
The post titled Investors are saying one thing, but doing another was originally published as on SentimenTrader.com on 2020-07-06.
At SentimenTrader.com, our service is not focused on market timing per se, but rather risk management. That may be a distinction without a difference, but it's how we approach the markets. We study signs that suggest it is time to raise or lower market exposure as a function of risk relative to probable reward. It is all about risk-adjusted expectations given existing evidence. Learn more about our service , research, models and indicators.
Follow us on Twitter for up to the minute analysis of market action.
Follow @sentimentrader