Investors are nearing a record in Risk-On behavior
---
---
We recently created a new Risk-On / Risk-Off Spotlight page which shows whether some core indicators are indicating that investors are in a risk-on or risk-off mode. As long as the aggregate measure is in risk-on mode, investors tend to be in a buy-the-dip mentality, which we saw again last week.
Like many other positive developments we've looked at over the last month or two, the biggest caveat is simply that the environment has been so positive for so long.
By the end of last week, nearly 100% of the indicators were in risk-on mode. That's so high that it has preceded weak returns.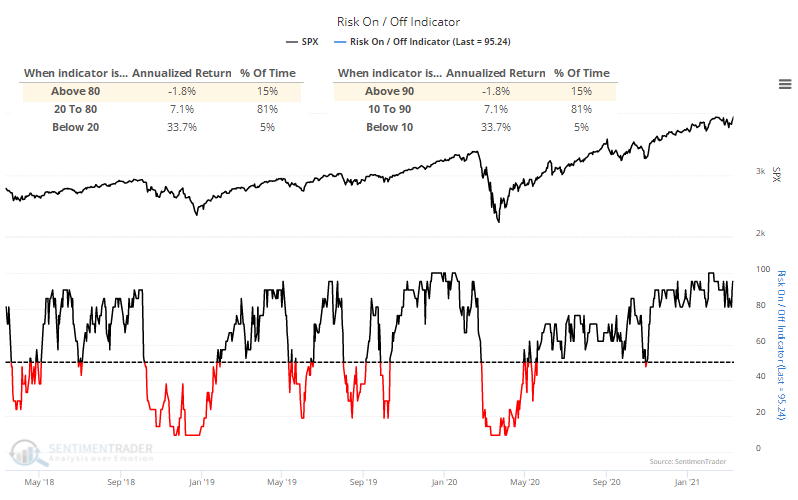 A risk-on mentality has been so prevalent for such a prolonged period that the 50-day average of the aggregate indicator has climbed above 90.5%, meaning that an average day over the past 50 sessions has seen more than 90% of the indicators displaying risk-on behavior.
Our Backtest Engine shows us that when the 50-day average has been this high, future returns were poor.
What else we're looking at
Full details of prolonged risk-on signals and S&P 500 forward returns
Also returns for the VIX, which showed even more consistency
Seasonal biases in developed countries
Where gold is in its typical yearly pattern
A major look at breadth and where it compares to activity at major peaks

Stat Box



For only the 7th time since 1896, the Dow Industrials Average has closed at a record high for

4

consecutive days, with all 4 days showing a gain larger than 0.5%. The last time it accomplished this was in February 1996, and 3 of the instances occurred before the year 1900.
Etcetera
Stocks yay, bonds nay. A 100-day moving average of the Stock / Bond Ratio has approached the highest levels in 20 years (actually, 60 years, but only the past 20 are shown).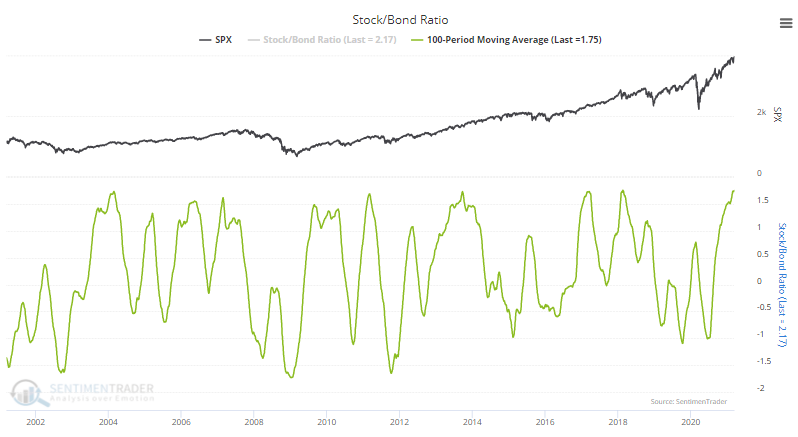 It's all good in the Dow. After a little scare at the beginning of March, Twitter users took the past few days of record highs in the Dow Industrials to be a good sign. Social Sentiment has plunged toward its lowest levels in the past 6 months. This is constructed like a put/call ratio, so the low values mean that there are few bearish tweets relative to bullish ones.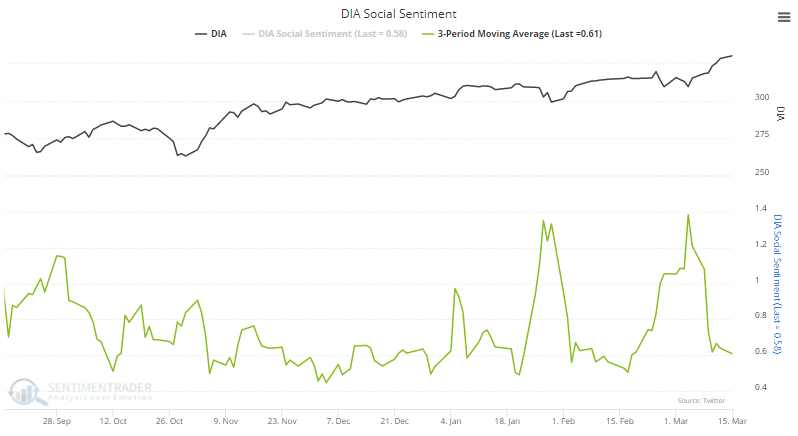 Coming back online. Utility stocks have stormed back in recent days, with a strong internal push. The McClellan Oscillator for stocks in the sector has climbed well into overbought territory that stopped the last 2 rallies.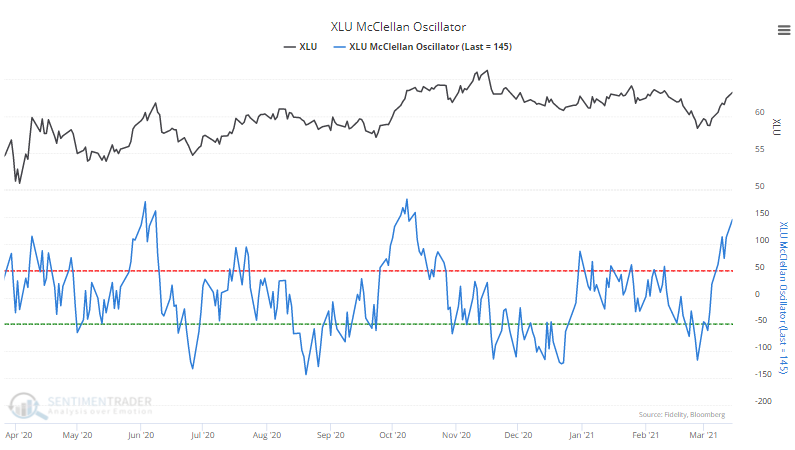 The post titled Investors are nearing a record in Risk-On behavior was originally published as on SentimenTrader.com on 2021-03-16.
At SentimenTrader.com, our service is not focused on market timing per se, but rather risk management. That may be a distinction without a difference, but it's how we approach the markets. We study signs that suggest it is time to raise or lower market exposure as a function of risk relative to probable reward. It is all about risk-adjusted expectations given existing evidence. Learn more about our service , research, models and indicators.
Follow us on Twitter for up to the minute analysis of market action.
Follow @sentimentrader