Investors Are Leaving As Black Swan Risk Rises
---
---
Equity fund flows are negative, and options SKEW is rising.
Leaving early
Investors have pulled hundreds of billions from equity funds in 2019, despite large gains in the funds. Because the gains have been so large, the outflows are small as a percentage of total assets.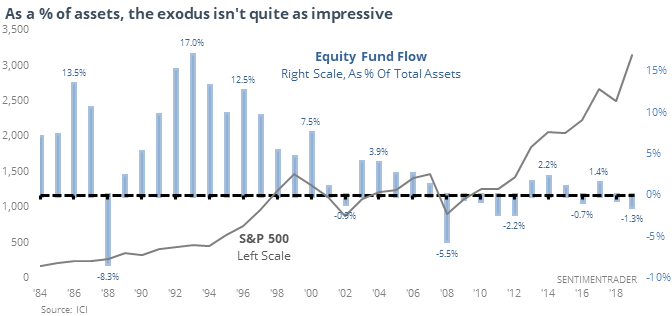 Still, it's an outflow, and stocks have a good record of rallying after any year that saw a net outflow from equity funds, with no losses a year after the other 9 years that saw outflows. It was even more unusual to see outflows during a year when the S&P 500 showed a decent positive return, and the next year tended to be even more positive (though the sample size is very small).
It might seem ironic that investors are pulling money out of funds during a year when stocks are rising, but there is actually a higher correlation to fund flows and the prior year's return in stocks. Perhaps it's a residual effect of investors opening year-end statements. If that's the case, then we should see inflows resume in 2020.
SKEWed Perspective
Last week in a report, we saw that while options traders were pricing in relatively calm short-term conditions, they were bidding up the price of put protection a year out (likely due to uncertainty regarding the election).
Due in part to this activity, the SKEW Index, which looks at the risk of a black swan event in equities over the next 30 days, jumped to the highest level since October 2018.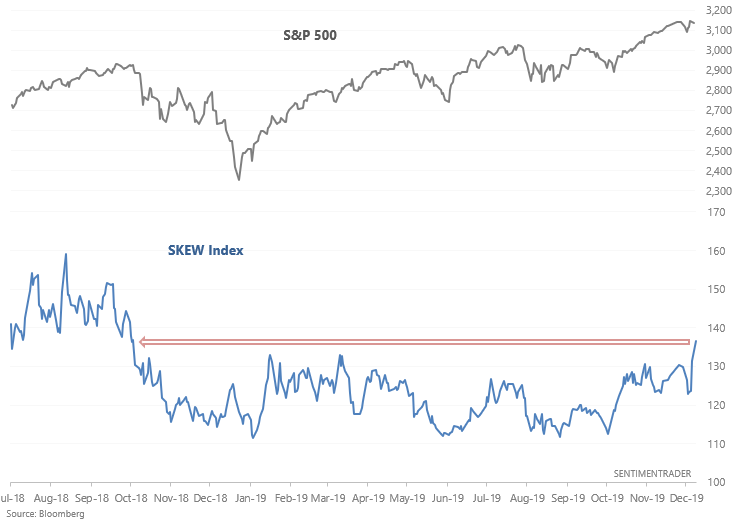 When this happened in the past, the S&P's returns over the next 2 months were worse than random, suggesting that it was better to hold bonds than stocks. In addition, returns over the next year were mostly bullish, with the exception of October 2001. That bearish case occurred in different environment from today: stocks were in a clear downtrend, and the economy was in a recession.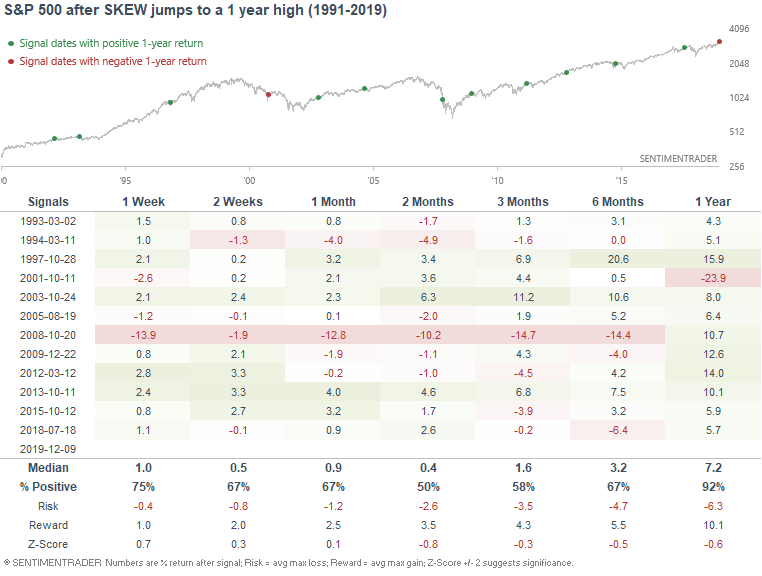 While this led to mixed results in stocks over the next 2-3 months, it wasn't a particularly bullish signal for VIX. If anything, VIX's returns over the next few weeks and months were more bearish than random.
This is an abridged version of our recent reports and notes. For immediate access with no obligation, sign up for a 30-day free trial now.
We also looked at:
Wall Street strategists aren't very optimistic about 2020
What happens after gold has a good year like 2019
Copper's breakout and what that means for emerging markets
Optimism on the British pound is high
Palm oil has surged

Related Posts:
---
Tagged As:
The post titled Investors Are Leaving As Black Swan Risk Rises was originally published as on SentimenTrader.com on 2019-12-10.
At SentimenTrader.com, our service is not focused on market timing per se, but rather risk management. That may be a distinction without a difference, but it's how we approach the markets. We study signs that suggest it is time to raise or lower market exposure as a function of risk relative to probable reward. It is all about risk-adjusted expectations given existing evidence. Learn more about our service , research, models and indicators.
Follow us on Twitter for up to the minute analysis of market action.
Follow @sentimentrader