Investment bankers are looking at this with envy
---
---
One of the most visible and discussed aspects of the current welcoming environment for investors is the plethora of new offerings. Whatever form they take, whether blank-check companies or traditional investment bank-led, we've never seen the market absorb so much in new shares.
According to Bloomberg data, there has now been $114 billion in U.S. initial public offerings that were priced over the past 12 weeks. This is almost entirely due to SPACs, which cut out the traditional fees earned by investment banks.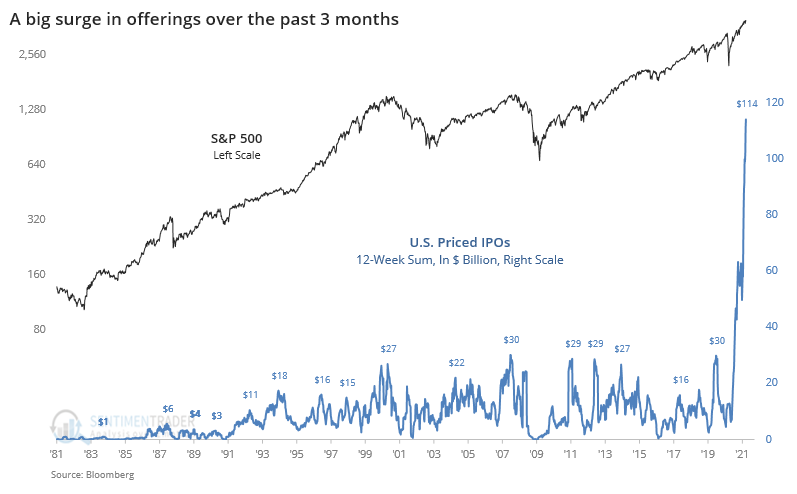 As we've discussed before, though, those are all distorted due to the larger size of the market for stocks. When we account for that, the current extreme shows quite a bit of shrinkage. At 0.26% of the entire market capitalization of U.S. stocks, this is the most in more than 25 years, but below the peak in the early 1990s.
What else we're looking at
A more comprehensive look at IPO issuance across time frames and adjusted for market cap
It's been a year since the bear market bottom - we look at what happened in sectors and factors in year 2 after other bottoms
The dollar has changed its long-term trend - what historical precedents led to

Stat Box



The U.S. Dollar Index rose above its 200-day average for the 1st time in

214

days. That ends its 9th-longest streak below the 200-day average since 1975.
Etcetera
Bitcoin blues. For only the 5th time in the past year, the daily Optimism Index on bitcoin has dropped below 20.
Junk blues, too. Shares outstanding in the high-yield bond fund HYG have declined steadily over the past 6 months even as the fund has increased in price. There are several reasons why shares can decline, but generally, it's considered a sign of waning enthusiasm.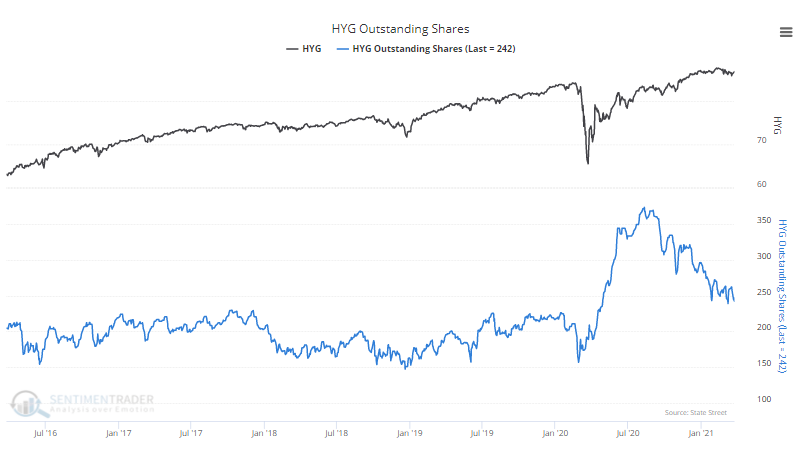 Betting against the consumer. There was a jump in put option activity among Consumer Discretionary stocks on Thursday, with the most put activity relative to call activity since November.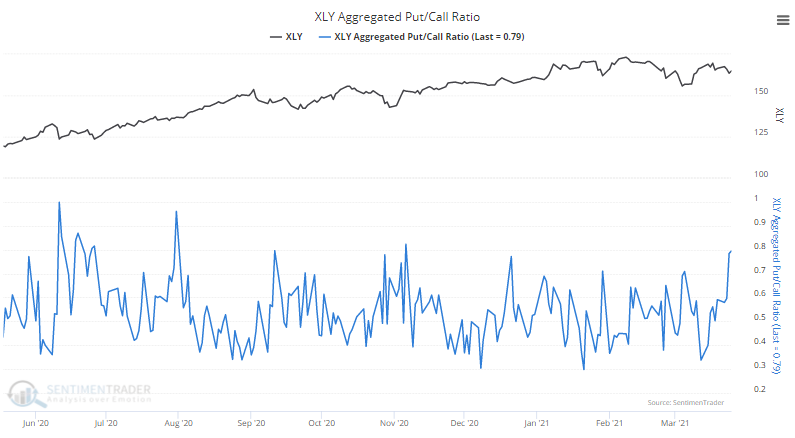 Related Posts:
---
Tagged As:
The post titled Investment bankers are looking at this with envy was originally published as on SentimenTrader.com on 2021-03-26.
At SentimenTrader.com, our service is not focused on market timing per se, but rather risk management. That may be a distinction without a difference, but it's how we approach the markets. We study signs that suggest it is time to raise or lower market exposure as a function of risk relative to probable reward. It is all about risk-adjusted expectations given existing evidence. Learn more about our service , research, models and indicators.
Follow us on Twitter for up to the minute analysis of market action.
Follow @sentimentrader