Interest rates turn "golden"
---
---
Investors have been fearing (or hoping, depending on one's perspective) for higher interest rates for a long time. Over the past couple of months, those fears/hopes have materialized.
For the first time in nearly 2 years, the yield on 10-year Treasury notes has undergone a "Golden Cross", with its 50-day moving average crossing above its 200-day average.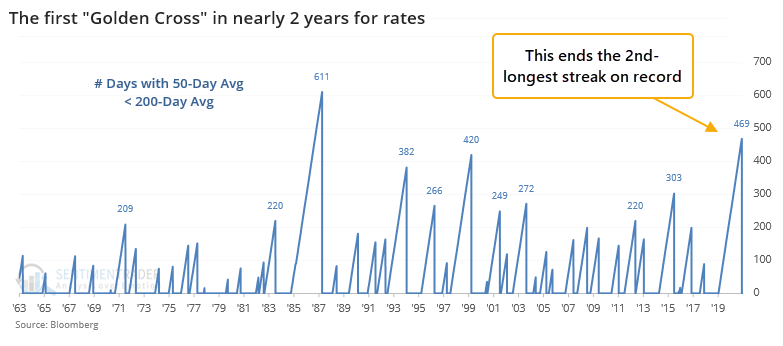 Prior to the past 20 years, the first Cross in at least 200 days tended to lead to even higher rates in the months ahead. Even after the peak in rates in the early 1980s, these signals saw the 10-year yield continue to rise. Not so much since then.
While some are hoping for higher rates as a sign of improved economic growth, these signals have been more of a hindrance for stock returns, at least over the short- to medium-term. It was less consistent for other markets like the dollar and gold.
---
What else is happening
These are topics we explored in our most recent research. For immediate access with no obligation, sign up for a 30-day free trial now.
Full details on what happens when the 10-year yield enjoys a Golden Cross
Including returns on stocks, gold, and the dollar
The high-yield bond market has had excellent breadth with many advancing bonds
A lot of them are hitting new highs, too
Twitter sentiment toward junk bonds is getting quite positive
---
Stat Box

According to the Investment Company Institute, investors pulled nearly $15 billion from world equity funds, excluding the U.S., in the week ending December 2. That's the 2nd-largest one-week outflow in more than a decade, next to a slightly larger outflow near the end of 2018.
---
Sentiment from other perspectives
We don't necessarily agree with everything posted here - some of our work might directly contradict it - but it's often worth knowing what others are watching.
1. Over the past 6 weeks, investors have moved nearly $14 billion into ETFs focused on value stocks relative to growth stocks. That's the biggest shift ever. [BofA via Liz Ann Sonders]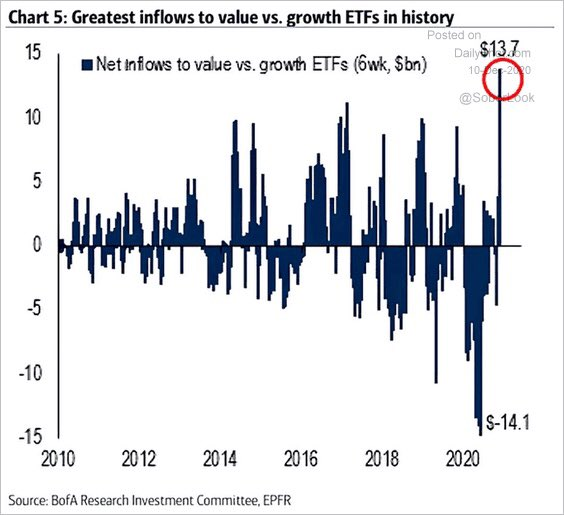 2. Where are investors NOT interested? Emerging markets, apparently. Shares outstanding in EEM have plunged and remain moribund despite rising prices. [Tom McClellan]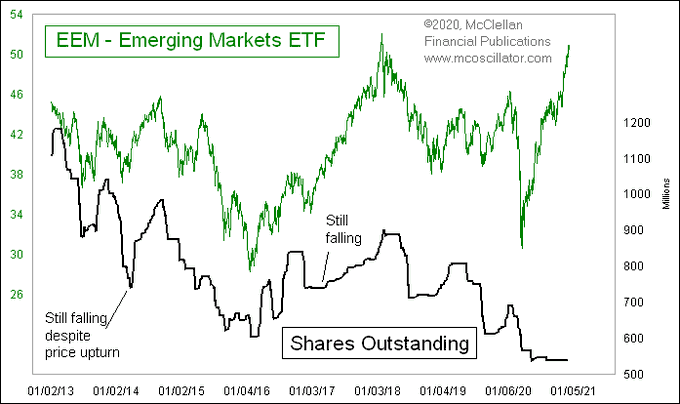 3. Despite showing meager appetite toward emerging markets, investors have flooded into funds focused on Korea, where inflows just hit a 7-year high. [Bloomberg TV]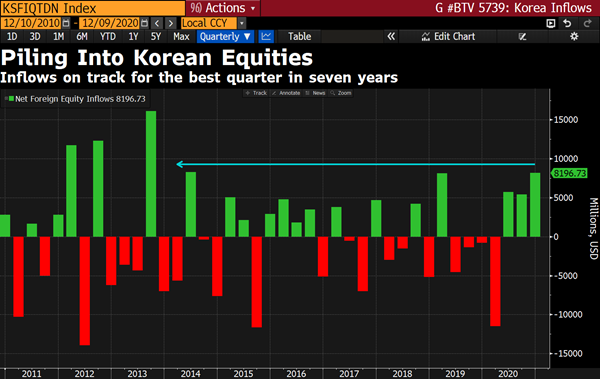 The post titled Interest rates turn "golden" was originally published as on SentimenTrader.com on 2020-12-10.
At SentimenTrader.com, our service is not focused on market timing per se, but rather risk management. That may be a distinction without a difference, but it's how we approach the markets. We study signs that suggest it is time to raise or lower market exposure as a function of risk relative to probable reward. It is all about risk-adjusted expectations given existing evidence. Learn more about our service , research, models and indicators.
Follow us on Twitter for up to the minute analysis of market action.
Follow @sentimentrader