Insiders' Sentiment Is Less Rosy Than Investors'
---
---
Corporate insider sentiment has diverged from investors' as the AAII survey shows a jump in optimism.
Insiders' insights
The ISM survey of purchasing managers continues to hover near its lowest level in years, even while the gain in stocks over the past 12 months is among its best in years. That is an unusual disconnect, with bulls and bears arguing about what it means.

Bulls want to assume this means that stock investors are correctly anticipating an upturn in corporate insider sentiment, while bears will assume it means that investors are overlooking bad corporate prospects.
Looking at similar disconnects since 1948, bulls might have an upper hand in the argument, though it was not a strong edge – the S&P's forward returns were below random across almost every time frame, though it did rise most of the time. Mostly, it was a worry over the next 6 months and not much more than that.
AAII
There has been talk in the media about blow-off tops recently. This may not be the case, at least according to the trend in investor attitudes as polled by the American Association of Individual Investors. After peaking last October, the percentage of investors considering themselves bullish on stocks has not spent a single week above 45% despite this year's big rally.
So when sentiment according to AAII does finally jump, it's typically not the final blow-off top to a bull market. The following table demonstrates what the S&P did next after AAII Bullish % jumped above 45% for the first time in more than 30 weeks.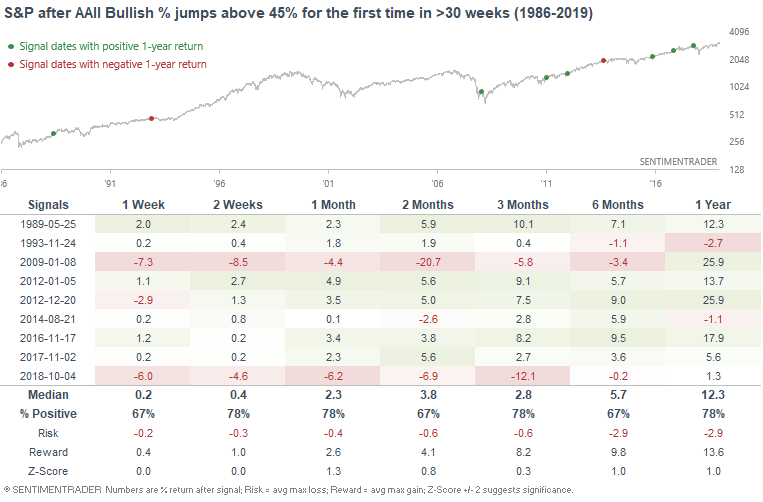 While forward returns weren't perfect, the S&P's performance over the next year was still more bullish than random. It doesn't appear that a return to optimism from this group, after such a long time being crabby, is necessarily a bad sign.
This is an abridged version of our recent reports and notes. For immediate access with no obligation, sign up for a 30-day free trial now.
We also looked at:
Investors' exposure to stocks is up, while their cash cushion is among the lowest ever
The HiLo Logic Index has dropped, showing less of a split underlying the market
Optimism on coffee prices is extreme
Sweden is the latest country showing a drop in purchasing manager sentiment

The post titled Insiders' Sentiment Is Less Rosy Than Investors' was originally published as on SentimenTrader.com on 2019-12-06.
At SentimenTrader.com, our service is not focused on market timing per se, but rather risk management. That may be a distinction without a difference, but it's how we approach the markets. We study signs that suggest it is time to raise or lower market exposure as a function of risk relative to probable reward. It is all about risk-adjusted expectations given existing evidence. Learn more about our service , research, models and indicators.
Follow us on Twitter for up to the minute analysis of market action.
Follow @sentimentrader