Indexes soar, but fewer stocks are coming along for the ride
---
---
Major indexes, especially those heavy with tech stocks, are driving higher. Yet fewer stocks are coming along for the ride.
We already know how much influence the top 5 stocks are having on the broader indexes, with a record increase in their weighting over the past year. That masked some troubling participation problems a couple of weeks ago and continues to do so now.
Friday's session ranks among the worst-ever for Up Issues and Up Volume when the index gained 0.5% or more. There was a day in April that was even worse, but that was during a historically volatile period, with other days showing massive positive breadth thrusts and recoveries. We're in a dramatically different environment now.
Since 1990, the S&P Tech sector has hit a 52-week high on 768 sessions. On those days, an average of 82% of stocks within the index closed above their 50-day moving averages. On Friday, only 76% of them did. That doesn't seem like a big difference, but it ranks in the bottom 25% of all readings. Same goes for the percentage trading above their 200-day averages. The percentage hitting a 52-week high was also abnormally low.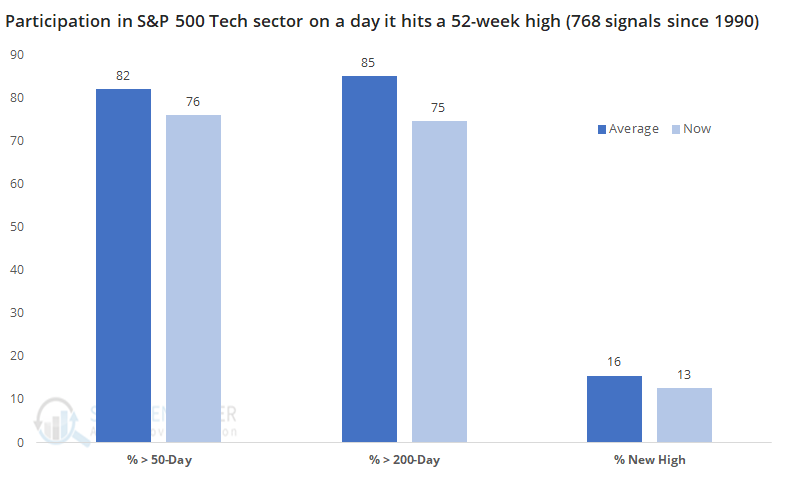 You'll likely hear claims that breadth can't be bad because advance/decline lines are hitting new highs, which means everything is alright. Well, yes it is hitting new highs, but no it doesn't necessarily mean everything is copacetic. That's not an opinion, it's a simple fact that anyone can see if they care to objectively view the data.
This is an abridged version of our recent reports and notes. For immediate access with no obligation, sign up for a 30-day free trial now.
We also looked at:
An in-depth look at recent participation vs returns in major indexes
SKEW has been trending upward for a while now
The Nasdaq 100 has had an incredible streak above its 20-day moving average

The post titled Indexes soar, but fewer stocks are coming along for the ride was originally published as on SentimenTrader.com on 2020-08-04.
At SentimenTrader.com, our service is not focused on market timing per se, but rather risk management. That may be a distinction without a difference, but it's how we approach the markets. We study signs that suggest it is time to raise or lower market exposure as a function of risk relative to probable reward. It is all about risk-adjusted expectations given existing evidence. Learn more about our service , research, models and indicators.
Follow us on Twitter for up to the minute analysis of market action.
Follow @sentimentrader