In June, Some Sectors Have It, And Some Don't
---
---
There are no "sure things" in the financial markets. But there sure are "things." Two of those "things" are:
Except for the Nasdaq Index (for whatever reason), the month of June is often (though not always) unkind to the stock market.
Specific sectors have shown a definite tendency to outperform during the sixth month of the year, while others have shown a definite tendency to underperform.
So, let's take a closer look at sector investing in June using the 11 S&P 500 Sector Indexes starting in 1950.
We will test the top and bottom sectors as follows:
Each June, we divide one portfolio by four and allocate 25% to each of the Top 4 sectors
Each June, we divide another portfolio by four and allocate 25% to each of the Bottom 4 sectors
The top sectors include defensive sectors like Health Care, while the bottom ones are more aggressive sectors like Technology.
The chart below divides the growth of the Top 4 by the growth of the Bottom 4. When the line is rising, it means the Top 4 sectors are outperforming and vice versa.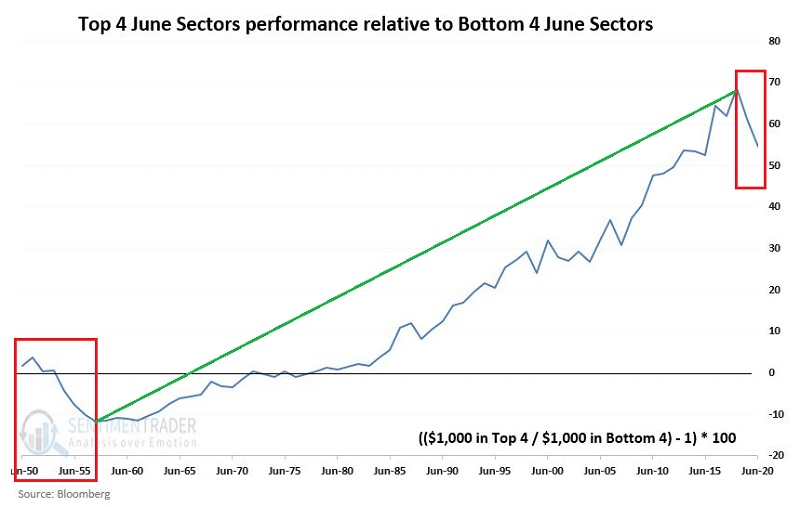 The Top 4 underperformed during the first seven years and last two years of the 1950-2020 test period. However, the Top 4 consistently outperformed the Bottom 4 for the intervening 61 years. So as we head into what can be a challenging month, it's worth noting that at least there are some sectors that aren't challenged quite as often.

Stat Box



Big test for gold miners. The percentage of mining stocks with a rising

200-day average

has started to curl higher from a very low level. Our Backtest Engine shows this has happened 18 other times in the past 30 years, and one month later the NYSE Arca Gold Bugs Index was higher after 14 of them. But when it failed, it failed big.
What else we're looking at
Full details on the top and bottom sectors for June.
The ISM new orders to prices paid spread has plunged
What a negative spread has meant for the S&P 500, sectors, and factors

The post titled In June, Some Sectors Have It, And Some Don't was originally published as on SentimenTrader.com on 2021-06-01.
At SentimenTrader.com, our service is not focused on market timing per se, but rather risk management. That may be a distinction without a difference, but it's how we approach the markets. We study signs that suggest it is time to raise or lower market exposure as a function of risk relative to probable reward. It is all about risk-adjusted expectations given existing evidence. Learn more about our service , research, models and indicators.
Follow us on Twitter for up to the minute analysis of market action.
Follow @sentimentrader