How Can Consumers Be Confident but Not Optimistic?
---
---
Consumers are a lot more confident than they are optimistic.
Those seem like they should be the same thing but aren't necessarily so. As measured by the Conference Board, consumer confidence was at extremely high levels as of the end of July, while Consumer Sentiment, as measured by the University of Michigan, was in the middle of its long-term range.
It makes sense that consumers would feel good about employment prospects and pay (Consumer Confidence) while also worried about a jump in prices for everyday necessities (Consumer Sentiment).
Whatever the reasons, we can see below that the spread between Confidence and Sentiment is now the widest in history.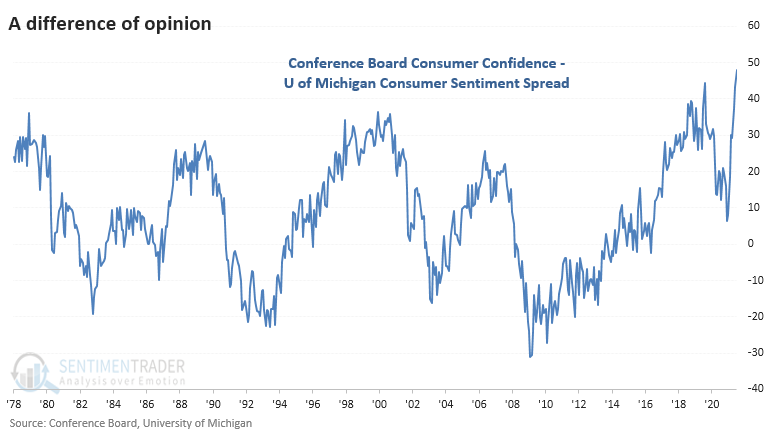 For the most part, stocks held up well after other peaks in the spread between surveys...for a while.
The biggest issue is that at some point - and it was an inconsistent "at some point" - stocks fell into a bear market following these divergences. Two of them triggered within months; two others took a long time to play out.
It's hard to rely on something with such inconsistent timing.

---
What else we're looking at
Returns in the S&P 500, dollar, gold, bonds, and commodities following peaks in consumer survey divergences
How sectors and factors performed after these signals
Looking at a buy signal for overseas markets once their relative performance improves
A trading system that combines our Macro Index Model with a simple trend-following filter
---
Stat box



Traders pulled more than $800 million from the HYG high-yield corporate bond fund on Tuesday, the 13th time the fund has suffered an outflow that large in the past year. Our Backtest Engine shows that 11 of the 12 prior signals preceded a rally in HYG.
---
Etcetera
[Greeced] up. The Greece Optix has seen a sharp rise in optimism, jumping from 7 to 81 in just a couple of weeks.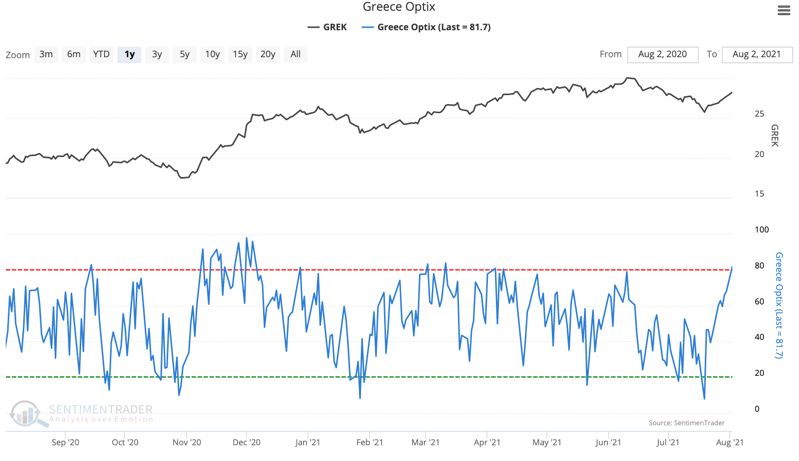 Down under. The Aussie dollar tends to rise during June and July, yet, it has continued to drop. Its typical seasonal trend is now once again a headwind.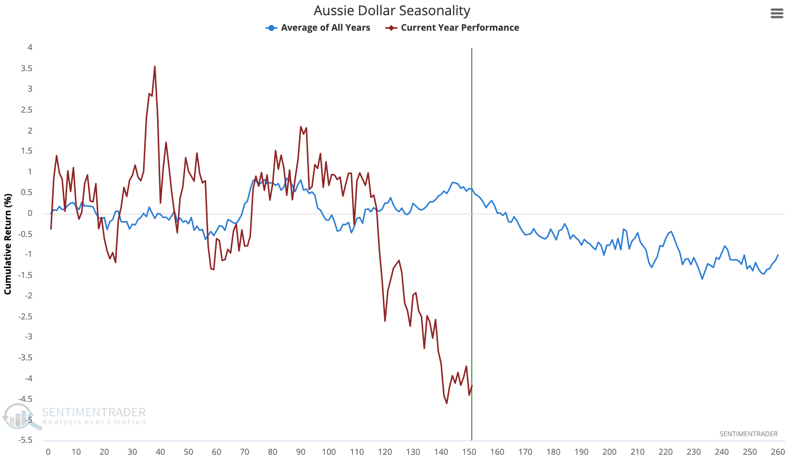 Power outage. Not a single energy company has been trading above its 50-day moving average for 14 days straight, the longest stretch since the end of 2018.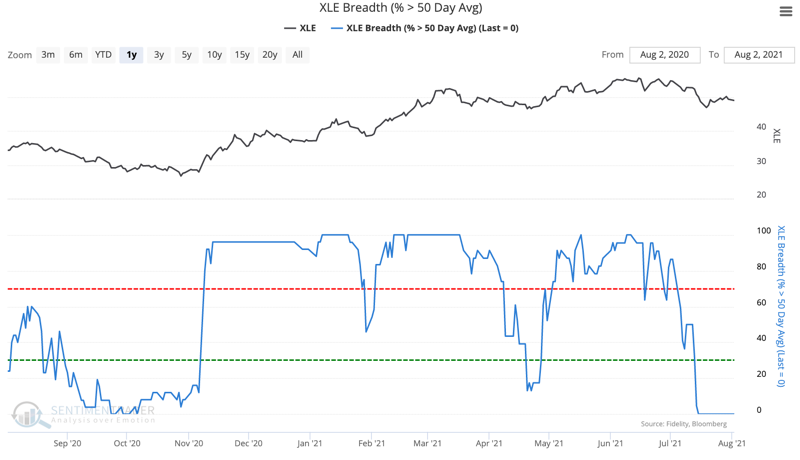 Related Posts:
---
Tagged As:
The post titled How Can Consumers Be Confident but Not Optimistic? was originally published as on SentimenTrader.com on 2021-08-04.
At SentimenTrader.com, our service is not focused on market timing per se, but rather risk management. That may be a distinction without a difference, but it's how we approach the markets. We study signs that suggest it is time to raise or lower market exposure as a function of risk relative to probable reward. It is all about risk-adjusted expectations given existing evidence. Learn more about our service , research, models and indicators.
Follow us on Twitter for up to the minute analysis of market action.
Follow @sentimentrader