Housing Optimism Helps Gap And Go Attempt
---
---

This is an abridged version of our Daily Report.
Housing optimism
Confidence among those in the housing industry has jumped to one of the highest levels in 30 years. Similarly high levels led to poor returns in home building stocks, but good returns in suppliers like Home Depot and Lowe's.

Over the next 3-12 months, there was almost no time when the home building stocks did NOT show a loss.
Gap and go…or no
Stocks gapped up at the open and never looked back, trading in record territory all day.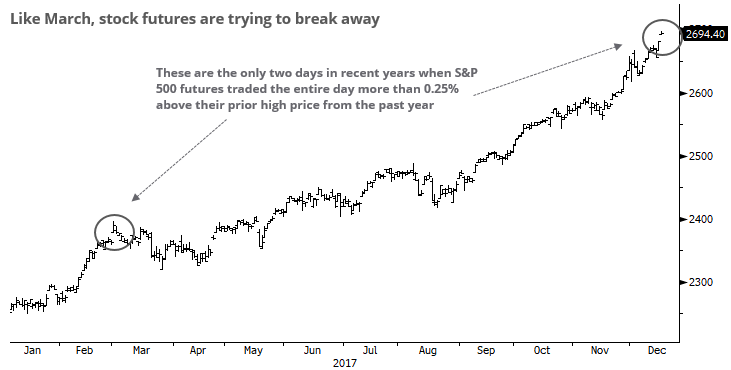 Similar jumps to the highest price in a year ultimately closed the gap, trading below the prior day's close. It took an average of about two weeks and 1% in further gains before stocks slid back.
Put erosion
As we head into what is usually light holiday trading, options traders are seeing even less reason to subject themselves to the possibility of eroding values as prices rise or meander. The Total Put/Call Ratio dropped below 0.70 on Monday, one of the lowest readings in recent years.
Lots of optimism, again
More than 45% of our indicators are now showing extreme optimism. Since 2009, there have been 15 days with so many optimistic readings.
For access to the full report, indicators, charts, screens, and Backtest Engine, log in or sign up for a free 30-day trial today.
Related Posts:
---
Tagged As:
The post titled Housing Optimism Helps Gap And Go Attempt was originally published as on SentimenTrader.com on 2017-12-19.
At SentimenTrader.com, our service is not focused on market timing per se, but rather risk management. That may be a distinction without a difference, but it's how we approach the markets. We study signs that suggest it is time to raise or lower market exposure as a function of risk relative to probable reward. It is all about risk-adjusted expectations given existing evidence. Learn more about our service , research, models and indicators.
Follow us on Twitter for up to the minute analysis of market action.
Follow @sentimentrader