Holding The Trend; Retail Investors Are Still Active
---
---
This is an abridged version of our Daily Report.
Holding the trend
As noted by Investor's Business Daily, the S&P 500 has managed to climb back above its widely-watched 50-day moving average and hold above it for a week straight. This ends a streak of more than 70 days without being able to do so, one of the longest since 1950.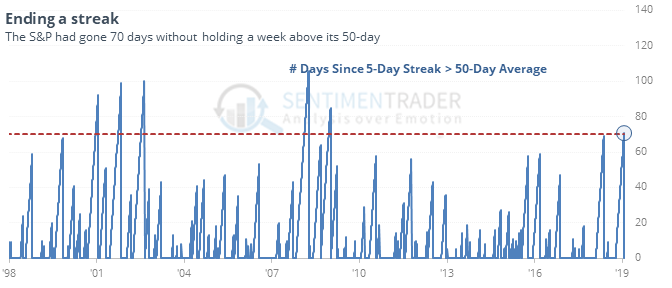 When the longer-term trend is declining, the ends of such streaks have led to poor returns over the next few months.
Still active
Retail traders on two popular platforms have pulled back a bit on their trading activity after it surged a year ago. But they're still relatively active, more than twice as much as during the trough in 2015-16 and thrice as much as at the end of 2008-09.
Mixed messages
Keeping with the trend of mixed signals that has been triggering frequently, and frustratingly, over the past few weeks, small options traders continue to show little interest in speculative call options. They still prefer protective put buying. The 5-week average just peaked at 25%, matched only by August and October 2002, and November/December 2008.

Related Posts:
---
Tagged As:
The post titled Holding The Trend; Retail Investors Are Still Active was originally published as on SentimenTrader.com on 2019-01-29.
At SentimenTrader.com, our service is not focused on market timing per se, but rather risk management. That may be a distinction without a difference, but it's how we approach the markets. We study signs that suggest it is time to raise or lower market exposure as a function of risk relative to probable reward. It is all about risk-adjusted expectations given existing evidence. Learn more about our service , research, models and indicators.
Follow us on Twitter for up to the minute analysis of market action.
Follow @sentimentrader