High-Yield Pessimism Hits Other Assets
---
---
This is an abridged version of our Daily Report.
Heavy selling in high-yield
Most of the measures we track for the high-yield bond market are getting stretched. This week, there was some of the most indiscriminate selling in over a decade.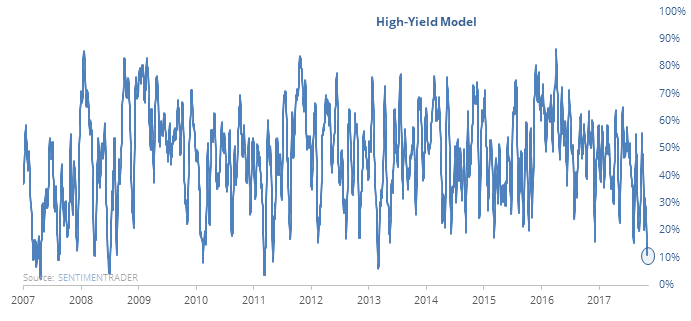 Future returns have been very positive after similar pessimism, though bear markets are a different story.
Risk vs reward
Looking at every date in the most compelling studies this week, the risk vs reward is clearly skewed positive. The vast majority of dates showed a positive return over the medium- to long-term. The probability of a bear market was small, especially in the near-term.
Miscellaneous
Stocks do, indeed, bottom on Friday just as often as about any other day.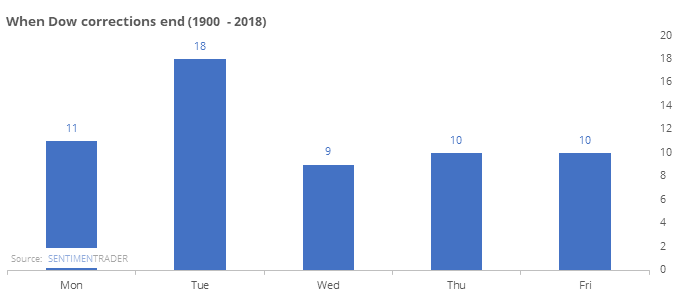 The volatility this week managed to trigger a CNBC special report and a Tweet from the president.
A big spread
The spread between Smart Money and Dumb Money confidence is now +40%, a rarely-seen level when the S&P is still above its 200-day average. According to the Backtest Engine, there have been 58 days when this occurred since 1999.
Consecutive selling
The S&P 500 sold off more than 3% on back-to-back weeks yet remains above its 52-week moving average.
For access to the full report, indicators, charts, screens, and Backtest Engine, log in or sign up for a free 30-day trial today.
Related Posts:
---
Tagged As:
The post titled High-Yield Pessimism Hits Other Assets was originally published as on SentimenTrader.com on 2018-02-10.
At SentimenTrader.com, our service is not focused on market timing per se, but rather risk management. That may be a distinction without a difference, but it's how we approach the markets. We study signs that suggest it is time to raise or lower market exposure as a function of risk relative to probable reward. It is all about risk-adjusted expectations given existing evidence. Learn more about our service , research, models and indicators.
Follow us on Twitter for up to the minute analysis of market action.
Follow @sentimentrader