High yield bonds rarely get hit this hard
---
---
Bonds of all stripes have been getting hit, and the stress is starting to show in some of the measures we follow for the high-yield corner of the market.
One of the primary ways to determine the internal health of the junk bond market is simply whether more bonds are hitting 52-week highs or lows. A net New High - New Low reading above zero is good; below zero is bad. It's still good for now, but hanging by a thread.
Recent internal selling pressure has pushed the McClellan Oscillator for high-yield bonds down to a very oversold level. When this reverses up from a low level, our Backtest Engine shows that HYG has typically rallied, with positive returns a month later 76% of the time.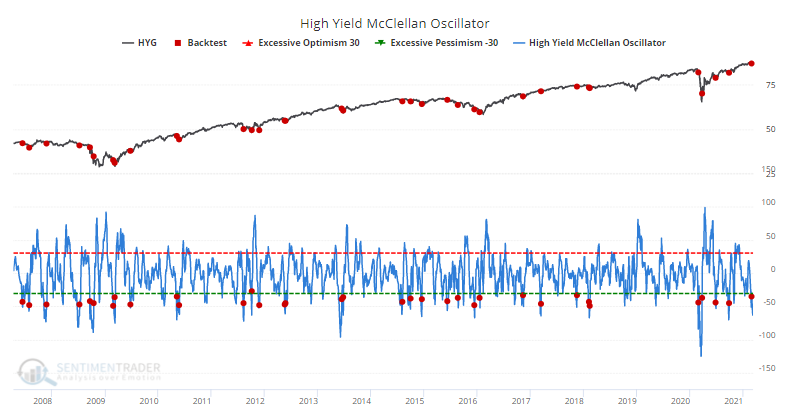 The persistently low Oscillator has caused the longer-term McClellan Summation Index to drop significantly from its highs. That shows weakening momentum, but it's still heavily positive. When this is below zero and declining, then it's more of a worry.
What else we're looking at
A look at the advance/decline line for high-yield bonds
What happens when ETF traders flee funds like HYG
Seasonality is about to turn for high-yield bonds
Social Sentiment, a machine-learning estimate of Twitter sentiment, is showing an unusual extreme for HYG
What happens after QQQ gives a buy signal using an internal Bollinger Band system
Stocks on the Brazilian Ibovespa have been sold enough to push the McClellan Summation Index to an extreme
What happens when NAAIM active manager sentiment declines

Stat Box



According to Lipper, an average of more than

$13 billion

per week has flowed into equity mutual funds and ETFs over the past 5 weeks. That's a record high, exceeding the prior high from late January 2018.
Etcetera
Let's talk about bear markets. There aren't any. Among major global indexes, there are currently none in bear markets, more than 20% off their highs. This is a complete reversal from a year ago when 100% of them were in bear markets. This has happened 3 other times in 50 years.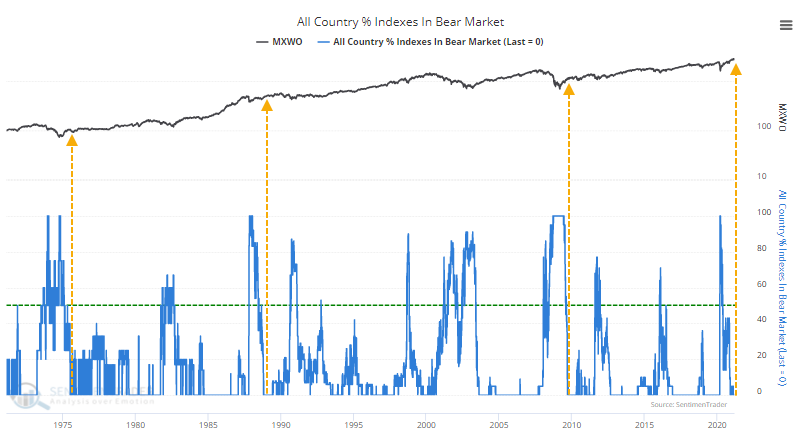 No industry bear markets, either. Among major industries in the U.S., there are also no bear markets. This is only the 3rd time we've seen this kind of cycle in the past 30 years.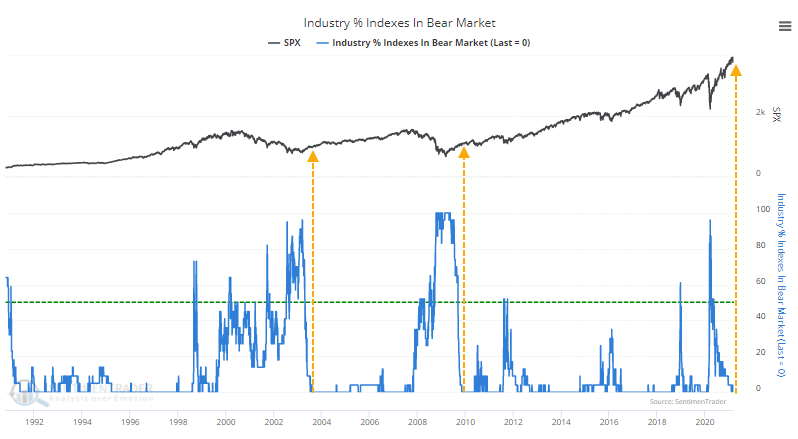 Some stocks, though. A small number of stocks within the S&P 500 are still more than 20% off their highs, though it's the fewest in years. A low percentage tends to be a positive sign, but a very low percentage has preceded some shorter-term weakness.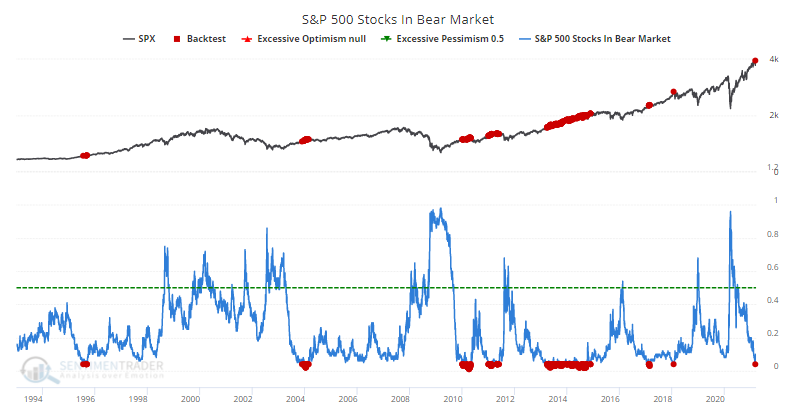 The post titled High yield bonds rarely get hit this hard was originally published as on SentimenTrader.com on 2021-03-12.
At SentimenTrader.com, our service is not focused on market timing per se, but rather risk management. That may be a distinction without a difference, but it's how we approach the markets. We study signs that suggest it is time to raise or lower market exposure as a function of risk relative to probable reward. It is all about risk-adjusted expectations given existing evidence. Learn more about our service , research, models and indicators.
Follow us on Twitter for up to the minute analysis of market action.
Follow @sentimentrader