Hedge Funds Keep Pussyfooting Around
---
---
This is an abridged version of our recent reports and notes. For immediate access with no obligation, sign up for a 30-day free trial now.
Pussyfooting
Hedge fund managers appear to have ever-lower exposure to stocks, which has been a theme this year. It's now on par with the ends of crises in 2002, 2008, and 2011.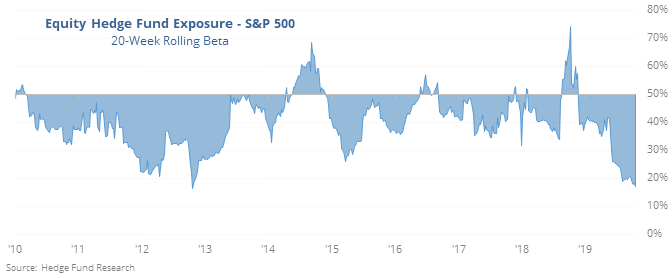 They also have near-record low exposure to most of the S&P's major sectors, with the only exceptions being some of the most defensive ones. This is only a rough approximation of how a variety of funds may be positioned, but it has proved fairly accurate as a contrary indicator at extremes. There isn't much evidence of "smart money" when groupthink is involved.
SKEW

The SKEW Index has jumped to a 6 month high, suggesting a rising risk of a black swan event over the next 30 days.
While high SKEW readings aren't usually good for stocks (SKEW was very high before the Q4 2018 stock market crash), the first decently high reading in a long time hasn't proven to be a negative, especially if we isolate for the cases in which the S&P was above its 200 dma.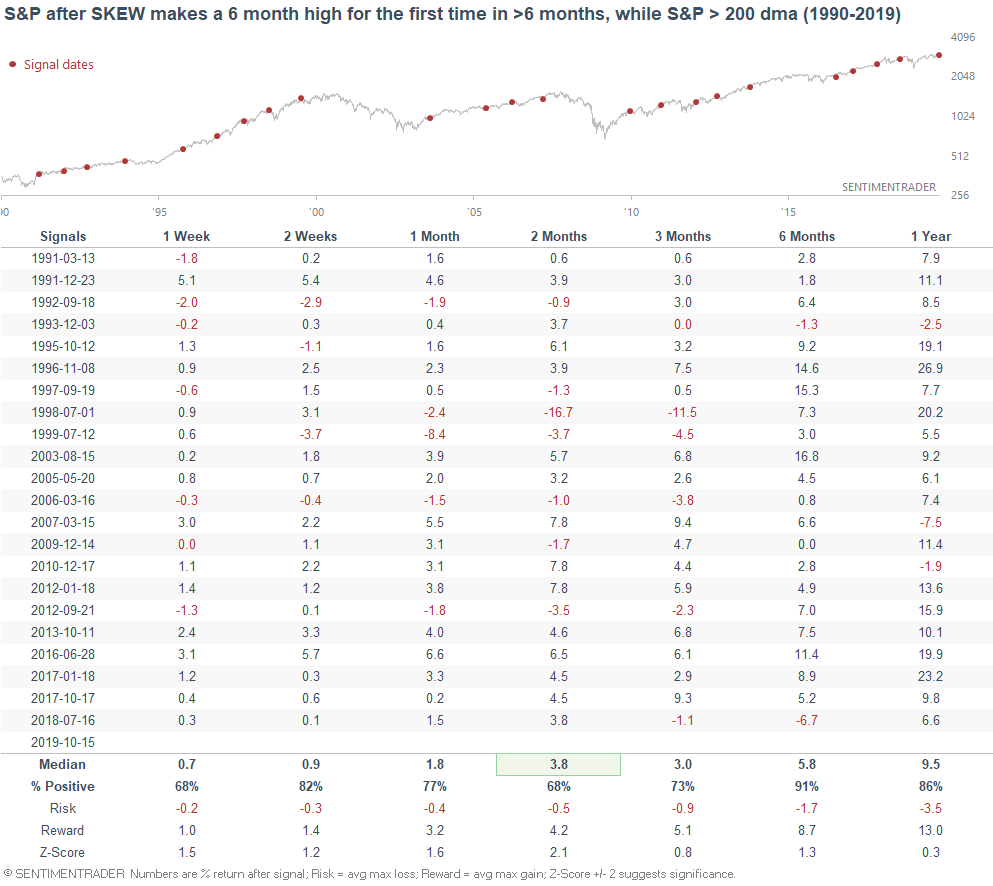 The S&P's returns over the next 2-4 weeks were mostly bullish after these signals.

The post titled Hedge Funds Keep Pussyfooting Around was originally published as on SentimenTrader.com on 2019-10-17.
At SentimenTrader.com, our service is not focused on market timing per se, but rather risk management. That may be a distinction without a difference, but it's how we approach the markets. We study signs that suggest it is time to raise or lower market exposure as a function of risk relative to probable reward. It is all about risk-adjusted expectations given existing evidence. Learn more about our service , research, models and indicators.
Follow us on Twitter for up to the minute analysis of market action.
Follow @sentimentrader