Hated Bonds As U.S. Economy Out-Surprises Eurozone
---
---
This is an abridged version of our Daily Report.
Survey says: sell bonds
Recent surveys of diverse investor groups show nearly universal expectations for higher rates (lower bond prices). An average of different surveys is the most extreme since 2005.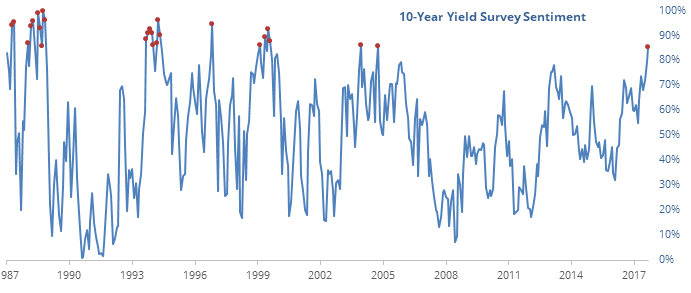 Other extremes mostly led to lower interest rates.
USA! USA! USA!
Economic surprises in the U.S. have been stronger than in the eurozone where they just dipped into negative territory. When that's happened before, the S&P 500 outperformed the Euro Stoxx 50 index. The U.S. dollar also did well, while commodities suffered, and bonds rallied.
Back-to-back followed by back-to-back
This is the first time since December 2015 that the S&P 500 rose more than 1% on consecutive days followed by 1% losses on consecutive days. There have been 23 of these patterns since 1928, and all but 3 of them occurred during bear markets.
For access to the full report, indicators, charts, screens, and Backtest Engine, log in or sign up for a free 30-day trial today.
Related Posts:
---
Tagged As:
The post titled Hated Bonds As U.S. Economy Out-Surprises Eurozone was originally published as on SentimenTrader.com on 2018-03-01.
At SentimenTrader.com, our service is not focused on market timing per se, but rather risk management. That may be a distinction without a difference, but it's how we approach the markets. We study signs that suggest it is time to raise or lower market exposure as a function of risk relative to probable reward. It is all about risk-adjusted expectations given existing evidence. Learn more about our service , research, models and indicators.
Follow us on Twitter for up to the minute analysis of market action.
Follow @sentimentrader