Half Of Nasdaq Stocks Are In Bear Markets
---
---
Big winners
Big tech stocks dominating the Nasdaq 100 have driven that index to more than a 5% gain over and above the broader Nasdaq Composite over the past year. That's the widest spread in years. Similar bouts of big-tech dominance preceded some short-term weakness but that's about it.
A bigger potential concern is that while those two indexes are hitting new highs, many stocks within them are not.
The latest round of fresh highs in the Nasdaq is coming despite more than half the stocks on the exchange being more than 20% off their 52-week high



This has preceded some trouble in the past. Over the past 15 years, there was a total of 53 dates when the Composite closed at a 52-week high but more than 50% of stocks were in bear markets and more than 65% in corrections. Returns over the next 3 months were well below random for the Nasdaq and (especially) the S&P 500.
Shallow drawdowns
After a meltdown in late-2018, the U.S. stock market has trended higher without a correction from 2019-present. At its worst, the S&P fell -7% in mid-2019. For now at least it seems that the S&P's drawdowns have become shallower and shallower.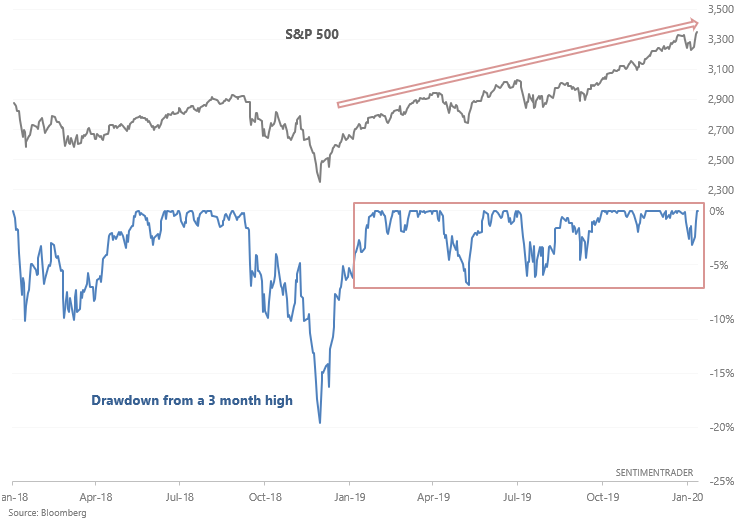 How long can this continue?
To date, the S&P has gone more than a year without a greater than -7% drawdown from a 3 month high. While it went more than 3 years without doing so (!) in the early 1990s, the current streak ranks among the largest since 1928.
By the time it lasted this long, the S&P was typically ready for some rest, sporting a poor risk/reward ratio over the next three months.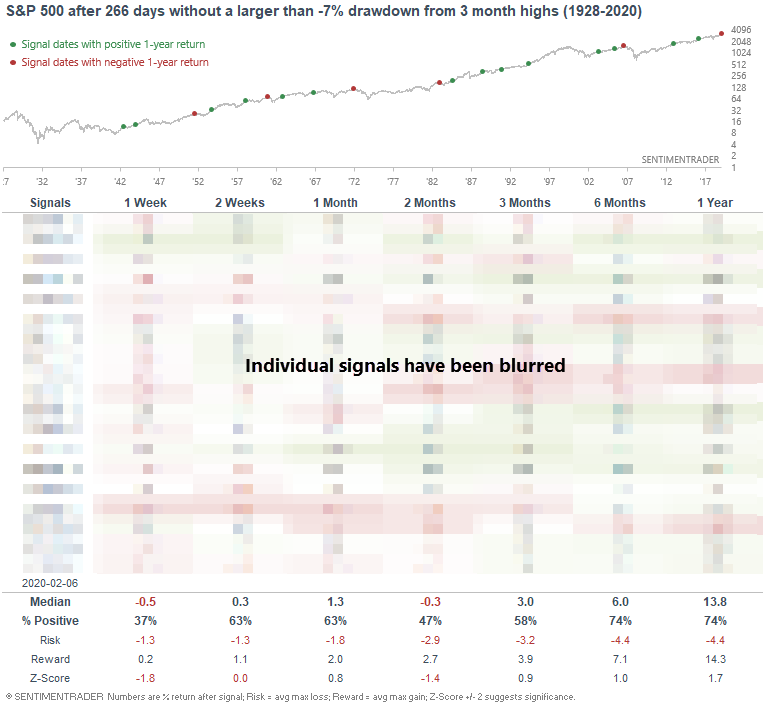 This is an abridged version of our recent reports and notes. For immediate access with no obligation, sign up for a 30-day free trial now.
We also looked at:
What happens when the Nasdaq 100 outperforms the Nasdaq Composite by so much over a year
Economic surprises in the U.S. and China are the highest in nearly 2 years
Earnings estimates on the Dow are turning negative
German manufacturing orders are plunging
Big tech stocks in the Nasdaq 100 have rallied most of the past 24 weeks
What happens when investors turned negative on bonds

The post titled Half Of Nasdaq Stocks Are In Bear Markets was originally published as on SentimenTrader.com on 2020-02-07.
At SentimenTrader.com, our service is not focused on market timing per se, but rather risk management. That may be a distinction without a difference, but it's how we approach the markets. We study signs that suggest it is time to raise or lower market exposure as a function of risk relative to probable reward. It is all about risk-adjusted expectations given existing evidence. Learn more about our service , research, models and indicators.
Follow us on Twitter for up to the minute analysis of market action.
Follow @sentimentrader