Good Overbought; Dow Leads Above 200-Day
---
---
Good overbought
After reaching an extreme oversold reading in December, the long-term McClellan Summation Index has cycled back to an overbought reading.
What's notable about this is just how quickly the Summation Index has cycled up to 500 after being so depressed just a month ago. The only time it managed to go from -1000 to +500 within one month was January 24, 1975, which kicked off a major bull move.

This shows that the momentum of the market's breadth has completely reversed. It has been a good sign, especially for some of the more volatile sectors including Technology and Industrials.
Not a dog
The Dow Industrials Average has led the major "big four" indexes out of a prolonged slump when they have all been trading below their 200-day moving averages.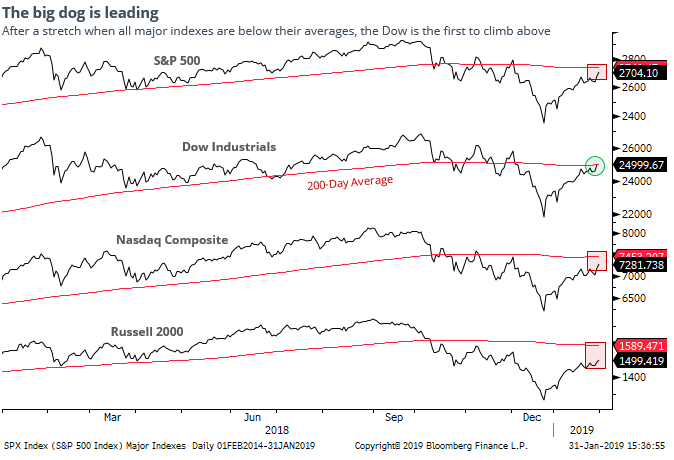 When the Dow or S&P lead the indexes out of these funks, forward returns were good. When the Nasdaq or Russell led, returns were horrid, especially over the short- to medium-term, and especially for the Nasdaq.
Trend and seasonality
One factor not working in stocks' favor at the moment is the fact that the S&P just ended January below its 200-day average. We can see from the study that it has led to very poor returns to start February, especially since 1950.
This post was an abridged version of our Daily Report. For full access, sign up for a 30-day free trial now.

Related Posts:
---
Tagged As:
The post titled Good Overbought; Dow Leads Above 200-Day was originally published as on SentimenTrader.com on 2019-02-01.
At SentimenTrader.com, our service is not focused on market timing per se, but rather risk management. That may be a distinction without a difference, but it's how we approach the markets. We study signs that suggest it is time to raise or lower market exposure as a function of risk relative to probable reward. It is all about risk-adjusted expectations given existing evidence. Learn more about our service , research, models and indicators.
Follow us on Twitter for up to the minute analysis of market action.
Follow @sentimentrader