Gold's Shocking Drop
---
---
This is an abridged version of our recent reports and notes. For immediate access with no obligation, sign up for a 30-day free trial now.
Gold's bull run
ETF traders have consistently poured money into gold funds, even during Thursday's big drop, which was a "shocking" decline.

It started to fall just as economic surprises in the U.S. have turned positive. Sentiment on the metal is the highest since 2011 as it enters a shaky seasonal window.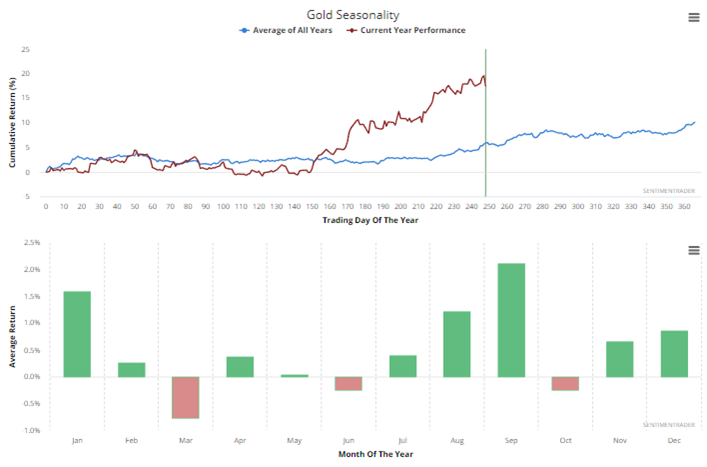 Best fits
Even with the late losses this week, gold has had a heck of a run
The best fit to what we've seen over the past year was 2009, and since 1975 there have been 10 one-year periods with a very high correlation to gold's path over the past year.
Those mostly saw some weakness over the next couple of months, but all rallied longer-term.
Breakout in S&P 500 stocks
There was a spike in stocks in the S&P 500 that broke out of their ranges and hit 1-month highs late this week, while fewer than 15% of them have managed to hit a 52-week high.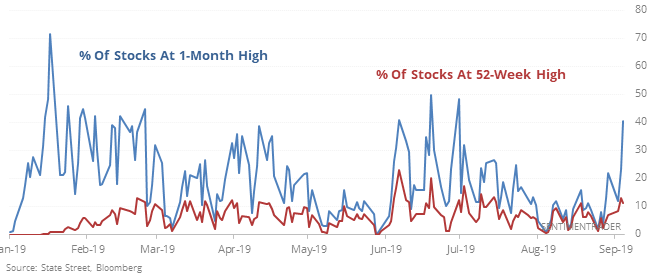 Based on the sectors that have been leading this charge, we should see a rise in stocks hitting new highs, as future returns were consistently positive after those signals with the highest sector correlation to now.
The latest Commitments of Traders report was released, covering positions through Tuesday
The 3-Year Min/Max Screen shows that smart money hedgers have established a new multi-year extreme in exposure to copper, while shorting gold and Eurodollars.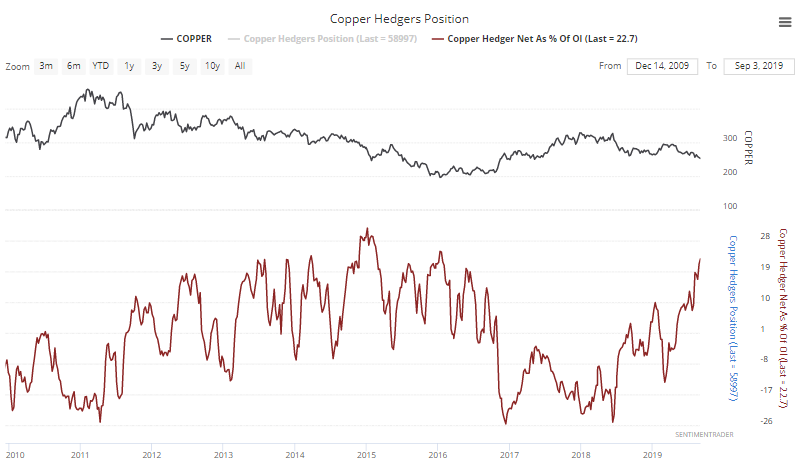 They've also added to substantial long positions in "c" soft contracts like cocoa, coffee, and cotton.
Macro
The economy and the stock market move in the same direction in the long term. Hence, leading economic indicators are also long term leading indicators for the stock market.
Here is our Macro Index, which aggregates 11 leading indicators. Overall, there is no significant U.S. economic deterioration right now. What will happen to macro in the future? I don't know. Instead of predicting the future, macro tells us how to react and trade day-by-day depending on what's happening right now.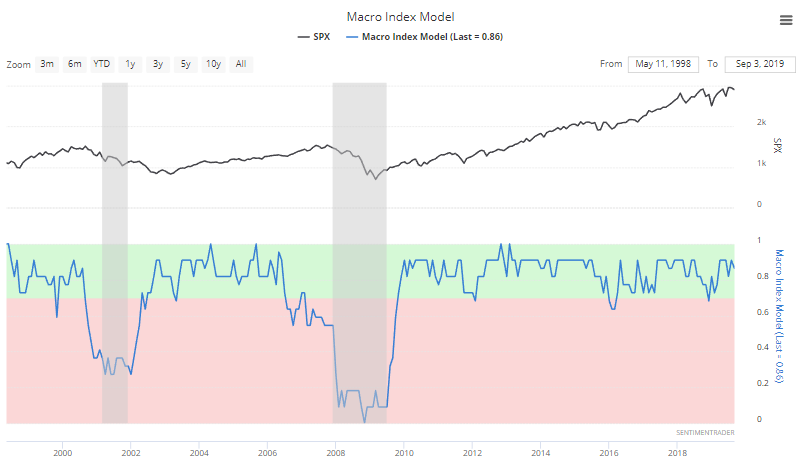 The main weak points in U.S. macro revolve around trade, manufacturing, and the yield curve. Housing and financial conditions are semi-weak, but there has yet to be significant deterioration.

Related Posts:
---
Tagged As:
The post titled Gold's Shocking Drop was originally published as on SentimenTrader.com on 2019-09-09.
At SentimenTrader.com, our service is not focused on market timing per se, but rather risk management. That may be a distinction without a difference, but it's how we approach the markets. We study signs that suggest it is time to raise or lower market exposure as a function of risk relative to probable reward. It is all about risk-adjusted expectations given existing evidence. Learn more about our service , research, models and indicators.
Follow us on Twitter for up to the minute analysis of market action.
Follow @sentimentrader