Gold's shiny 7-week run
---
---
The correlation between two of the more reliable safe havens has been wobbling.
Normally, during times of duress, the price of gold and the exchange rate of the Japanese yen mostly move together. Lately, however, that has been breaking down, leading to the lowest 6-month correlation in five years. When this "something" was driving gold and not the yen, gold had a consistent tendency to rise from three months and beyond.
Shorter-term, our Optimism Index on gold (and silver) have soared into "extreme optimism" territory. That's not a big surprise given the metal's recent momentum. This past week was gold's 7th straight week of gains, the most in 9 years.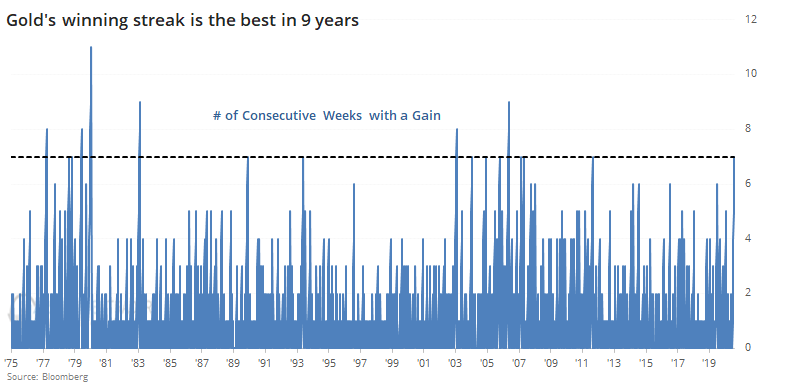 Outside of the late 1970's run-up, every single signal showed a loss over the next month. Only one of them showed a gain even three months later.
This is an abridged version of our recent reports and notes. For immediate access with no obligation, sign up for a 30-day free trial now.
We also looked at:
A closer look at the correlation between gold and the yen, and what similar de-couplings meant for each
Gold gained more than 4% in a week to set a new high - a look at similar moves since 1975
Forward returns when gold's Optimism Index matches it current level
Call option volume on SLV and GLD are at or near records
More Chinese and emerging markets stocks are triggering technical sell signals
Nasdaq optimism has never been higher

Related Posts:
---
Tagged As:
The post titled Gold's shiny 7-week run was originally published as on SentimenTrader.com on 2020-07-27.
At SentimenTrader.com, our service is not focused on market timing per se, but rather risk management. That may be a distinction without a difference, but it's how we approach the markets. We study signs that suggest it is time to raise or lower market exposure as a function of risk relative to probable reward. It is all about risk-adjusted expectations given existing evidence. Learn more about our service , research, models and indicators.
Follow us on Twitter for up to the minute analysis of market action.
Follow @sentimentrader