Gold Suffers Death Cross As Financials Stumble
---
---
This is an abridged version of our Daily Report.
Not a Golden Cross
Gold's 50-day average finally crossed below its 200-day for the first time in a year, ending one of its longest-ever streaks with a more positive medium- than long-term trend.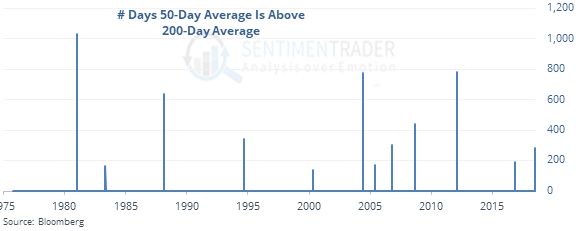 The metal tended to trend lower in the months after similar signals.
A 40-year flood of selling
Financial stocks lost ground for 12 straight days, the longest in 40 years and one of its few times since 1926. The popular XLF fund has seen its shares shrink to a 6-month low, a sign of apathy from ETF traders.
No room for error
Investors' net worth is at an all-time low as a percentage of stocks' market value. They owe way more in debt pledged against stocks than they have cash on hand and excess buying power.
Minor recovery
We've been asked about the pattern in the S&P 500 (SPY) of a large down day on Monday then a minor recovery Tuesday. SPY has lost more than 1% then gained less than 0.5% the next day, with a lower high and higher low (an inside day) 28 times.
F
or access to the full report, indicators, charts, screens, and Backtest Engine, log in or sign up for a free 30-day trial today.
The post titled Gold Suffers Death Cross As Financials Stumble was originally published as on SentimenTrader.com on 2018-06-27.
At SentimenTrader.com, our service is not focused on market timing per se, but rather risk management. That may be a distinction without a difference, but it's how we approach the markets. We study signs that suggest it is time to raise or lower market exposure as a function of risk relative to probable reward. It is all about risk-adjusted expectations given existing evidence. Learn more about our service , research, models and indicators.
Follow us on Twitter for up to the minute analysis of market action.
Follow @sentimentrader