Gold miners' shining moment
Even as "everything" rallies, the biggest standout is gold. Whatever the reasons behind the move, it has been stunning.
The worry among some is that it's only speculative activity, as judged by the fact that bitcoin, dubbed the "new gold", has also started to spike. As the Daily Shot notes, the correlation between the two alternative stores of value has jumped. Past bouts of high correlation had a mixed record at suggesting that gold buyers were being too speculative.
Because of the surge in the metal, gold mining companies have taken off as well. The NYSE Arca Gold Miners Index (GDM), the basis for popular exchange-traded funds like GDX, has skyrocketed 34% in just the past 30 days.
That has helped to push every gold mining stock above their 50- and 200-day moving averages, a feat rarely achieved. Almost all of them are even above their shortest-term averages, and a near-record percentage of them have ticked at a 52-week high. That's astoundingly widespread buying interest in this group.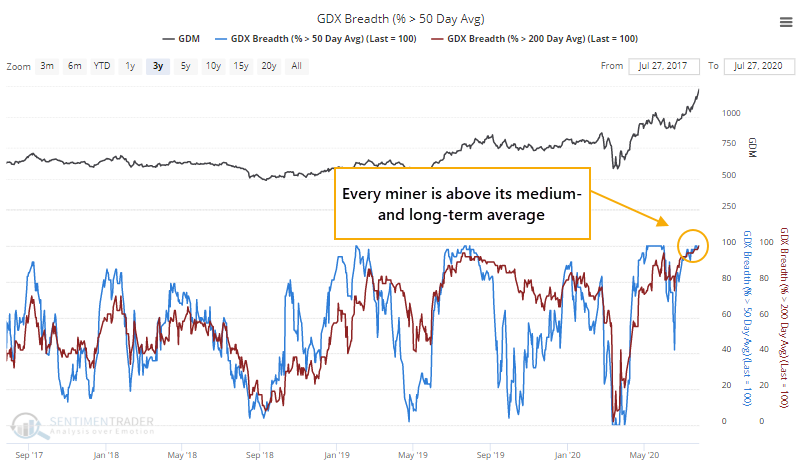 Only one date showed a gain over the next couple of weeks, and that one ended up giving those gains back. All but one of the signals showed a loss between 1-3 months after these breadth surges since 1993.
These breadth measures on gold mining stocks is something unique to SentimenTrader, with data going back nearly 30 years, all available for testing in the Backtest Engine. The following are updated on a daily basis:
% of gold miners above their 10-day average
% of gold miners above their 50-day average
% of gold miners above their 200-day average
% of gold miners at 52-week high
% of gold miners at 52-week low
% of gold miners in a correction
% of gold miners in a bear market
This is an abridged version of our recent reports and notes. For immediate access with no obligation, sign up for a 30-day free trial now.
We also looked at:
A deeper look at breadth among gold mining stocks
A look at the correlation between gold and bitcoin
The past 3 months have seen an "everything rally" with big gains in stocks, bonds, commodities, and gold - what it's meant for each
Homebuilding stocks have had a record rally
What happens after silver's largest one-month gains
A near-record number of Chinese stocks are triggering technical sell signals