Gold Just Suffered a Low Volatility Breakdown
---
---
Gold futures plunged to their lowest level in a month after a solid employment report. Dean shows why this should be a concern for bullion bulls.
While a 1-month low is not unusual, the volatility in gold before preceding the drop is. What we're seeing is a low-volatility period followed by a decline. The percentage spread between the upper and lower Bollinger Bands (an indicator of volatility) had squeezed so much that it was in the bottom 3% of all values over the past 50 years before Friday's drop in prices.
Dean then ran a study to assess the forward return for gold futures when the Bollinger Band spread crossed below 2% and gold registers a 1-month low within five trading days.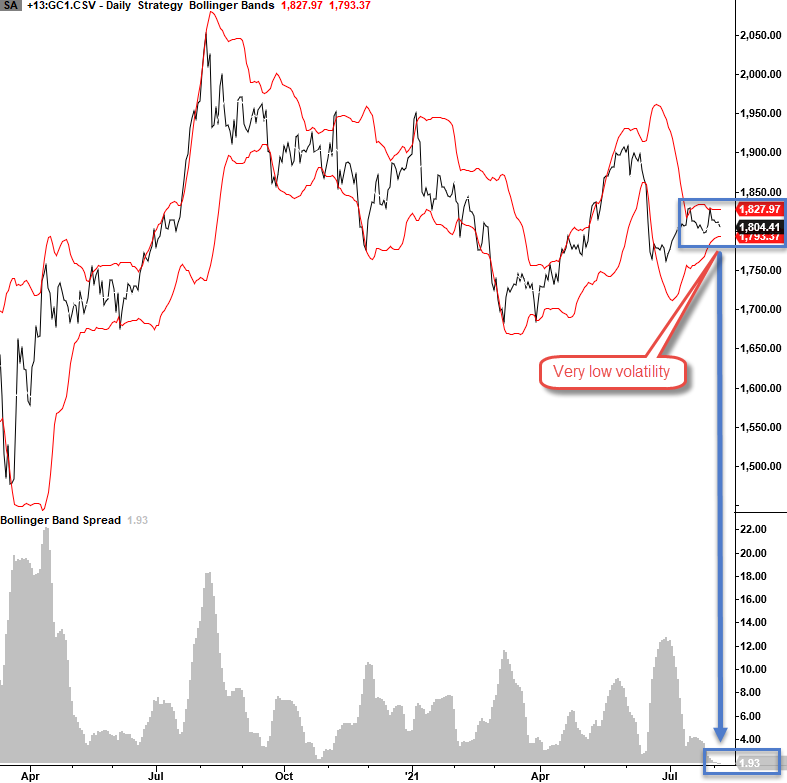 The chart above shows just how tight the Bollinger Bands had become, with the gray shaded area highlighting the spread between the upper and lower Bands. The table below looks at gold's forward return following a tight spread and then a 1-month low in gold prices.
Returns across all time frames were below random, with especially bad performance over the next couple of weeks. This should prove to be a headwind as we enter the August doldrums.

---
What else we're looking at
Full returns in gold following low-volatility declines.
What happens when the Russell 2000 is near a high yet most of its members are in downtrends (hint: not what you'd expect)
Taking a look at the Risk Level in agriculture
---
Stat box



For the 13th time in its history, the S&P 500 has now gone 189 trading days - a full nine months - without closing more than 5% below its prior 52-week high.
---
Etcetera
Down south. The McCellan Summation Index for Brazil's Ibovespa index has cratered, nearing -1000. Our Backtest Engine shows that over the past decade, it has reached this level 12 times, with positive returns two months later after 10 of them.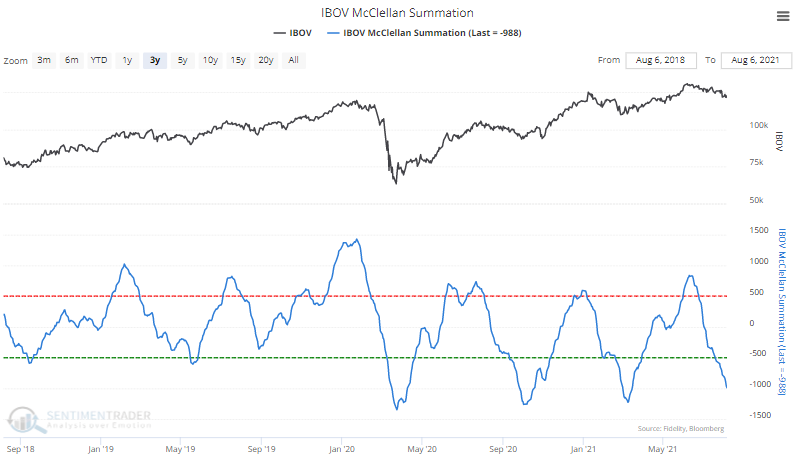 Not socially awkward. This isn't any big surprise, but the 200-day average of Social Sentiment on the Nasdaq 100 fund, QQQ, is the most positive in a decade, the first time the average has shown more positive than negative messages on social media.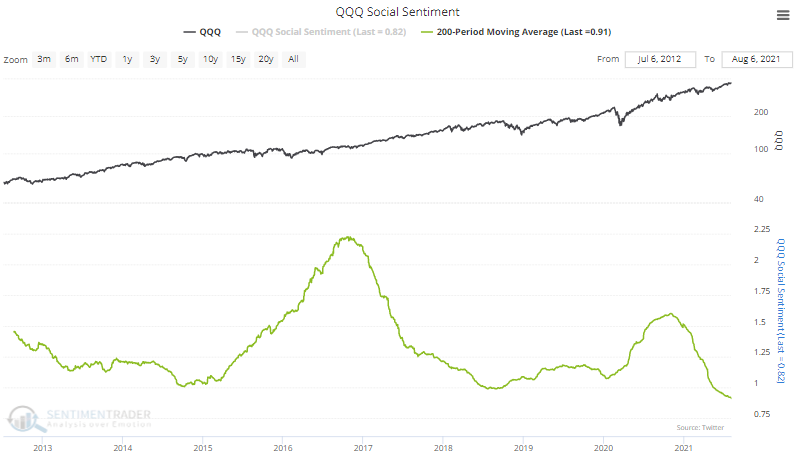 Not very shiny. Thanks to alternative funds and a general lack of enthusiasm toward gold, shares outstanding in GLD remain near their lowest level in over a year.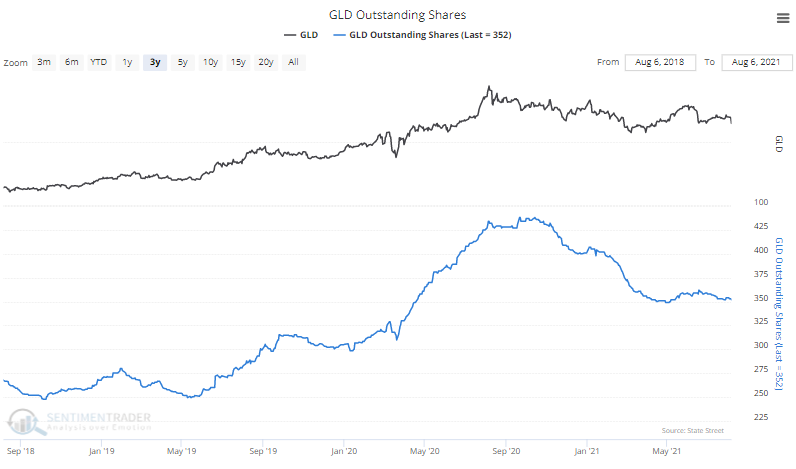 Related Posts:
---
Tagged As:
The post titled Gold Just Suffered a Low Volatility Breakdown was originally published as on SentimenTrader.com on 2021-08-09.
At SentimenTrader.com, our service is not focused on market timing per se, but rather risk management. That may be a distinction without a difference, but it's how we approach the markets. We study signs that suggest it is time to raise or lower market exposure as a function of risk relative to probable reward. It is all about risk-adjusted expectations given existing evidence. Learn more about our service , research, models and indicators.
Follow us on Twitter for up to the minute analysis of market action.
Follow @sentimentrader