Gold just did this for the 1st time in 9 months
---
---
After rallying for months and generating the expected bout of excitement, the mainstay precious metal has lost its luster in favor of bitcoin. For the first time in nearly 9 months, gold has crossed below its 200-day moving average.
This ends its 10th-longest streak above its long-term average.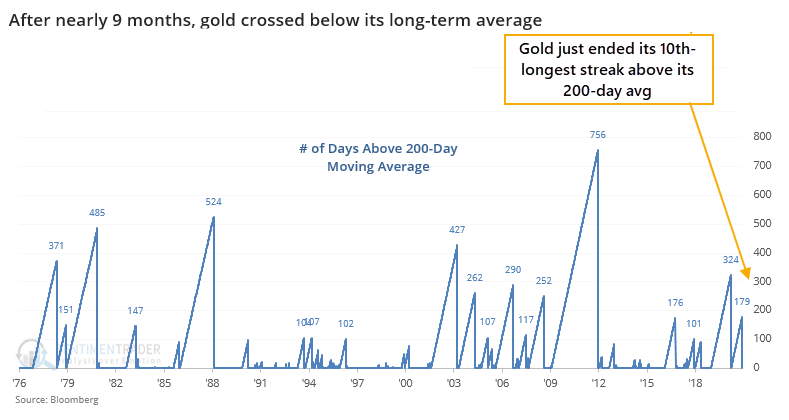 After gold ended other streaks of at least 100 days above its 200-day since 1975, it tended to resume its uptrend. Over the next month, gold rebounded more than 3/4 of the time, with a heavily positive risk/reward ratio. Returns across all time frames were consistently positive.
It was a better signal for gold mining stocks. As was the case when gold first pulled back from a 52-week high as much as it did last week.
---
What else is happening
These are topics we explored in our most recent research. For immediate access with no obligation, sign up for a 30-day free trial now.
Full returns in gold well ended a streak above its 200-day average
For gold mining stocks, too
What happens when gold suffers its first significant pullback from a new high
Fewer than 3% of gold miners are above their 50-day moving average
What happens when gold and the U.S. dollar fall together
It's been a historic 8 months for the S&P 500, Nasdaq 100, and MSCI All World indexes
---
Latest video - coding a trading strategy for 6 markets
Continuing our free series on using the popular programming language Python to create and test trading strategies, the video below will show you how to quickly and accurately look at a strategy across 6 markets at the same time. This is a great way to test how rules might differ depending on the market being tested.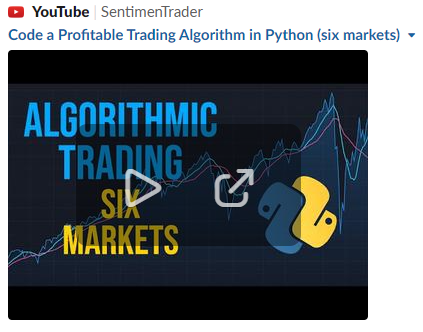 ---
Stat Box

The most important ETF in the world, SPY, gapped up more than 0.75% at the open on the first trading day of a new month, hitting a new high in the process. Every time it's done that since 1993, it showed a higher return 3 months later.
---
Sentiment from other perspectives
We don't necessarily agree with everything posted here - some of our work might directly contradict it - but it's often worth knowing what others are watching.
1. Bitcoin has become the place to be for speculators. Why bother with stodgy gold when you can enjoy $1,000 gains in a single day? By Tuesday, there was a record number of "active entities" either sending or receiving the coin, a record high. [Coindesk]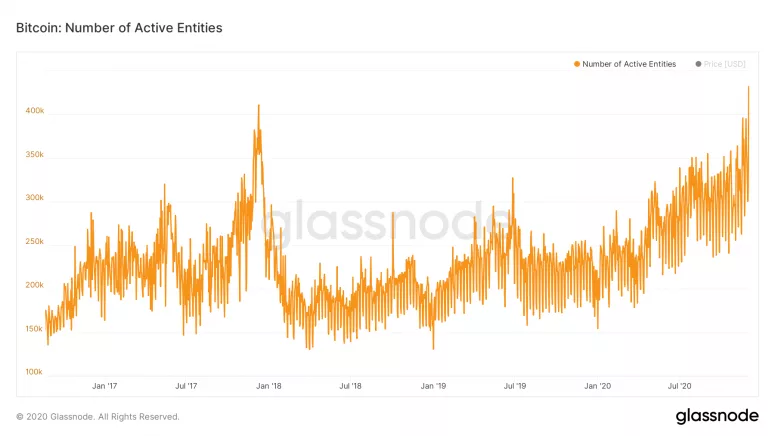 2. According to a Citi model (and pretty much all other ones, too), investors are back in the euphoria stage. Forward returns have been unkind under these conditions. [Liz Ann Sonders]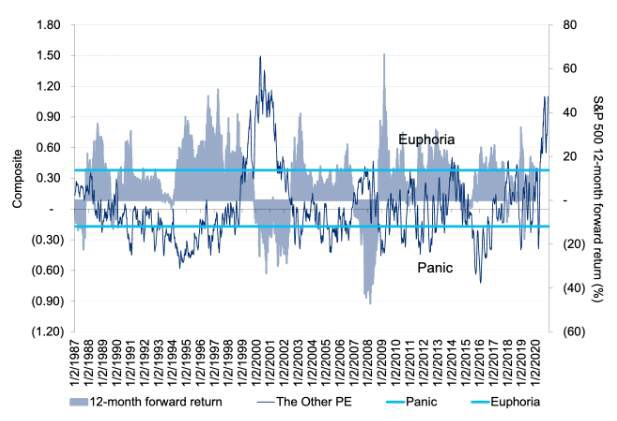 3. Apply ice to burned area. Short-sellers are among the few who are decidedly not feeling euphoric nowadays. A basket of most-shorted stocks has not only hit new highs, it has done so in a parabolic manner. [Bloomberg via Liz Ann Sonders]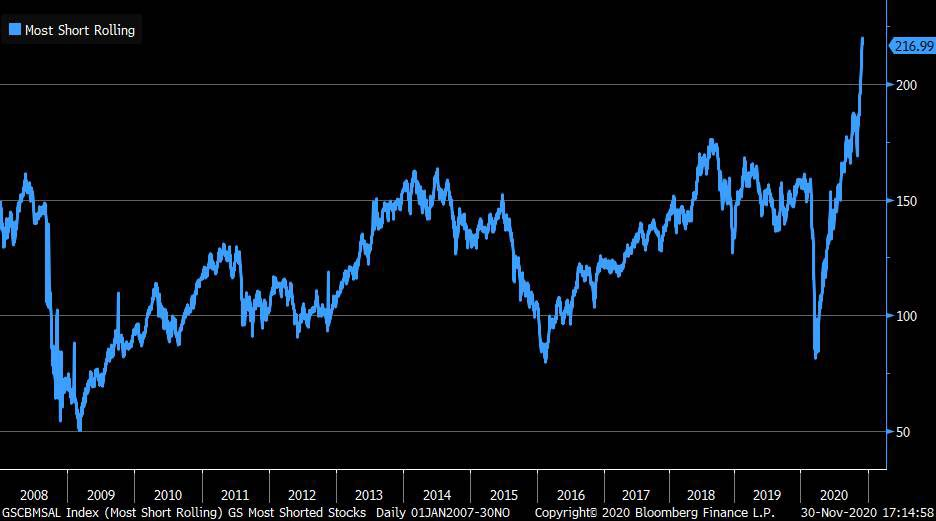 The post titled Gold just did this for the 1st time in 9 months was originally published as on SentimenTrader.com on 2020-12-02.
At SentimenTrader.com, our service is not focused on market timing per se, but rather risk management. That may be a distinction without a difference, but it's how we approach the markets. We study signs that suggest it is time to raise or lower market exposure as a function of risk relative to probable reward. It is all about risk-adjusted expectations given existing evidence. Learn more about our service , research, models and indicators.
Follow us on Twitter for up to the minute analysis of market action.
Follow @sentimentrader